CHARLOTTE, N.C. — The first major winter storm of the season brought heavy snowfall to the North Carolina mountains Monday, with up to 8" possible in some of the higher elevations.
The storm lingered through around midday Monday, with snow accumulation expected along the Interstate 40 corridor as far east as Greensboro, North Carolina. The Charlotte area mostly got heavy rain, but some snowflakes did mix in with the rain in some locations.
Winter Storm Warnings and Winter Weather Advisory
The bulletin states, "Heavy snow expected. Total snow accumulations of 4 to 6 inches, with locally higher amounts along the ridges. Winds gusting as high as 35 mph."
Crews with Watauga County Emergency Management were quick to act as the winter storm rolled through.
"It all came down very fast," Watauga County Emergency Services Director Will Holt said. "As soon as the transition happened, DOD was standing by their salt yard and started hitting the streets pretty quickly."
Snow totals
The lower you go in elevation, the less snow you will see. Snow rates were heavy at times falling at 1 to 2 inches-plus per hour on the mountaintops.
Areas like Boone and Blowing Rock saw snowfall in the 2 to 4 inches mark, but a lot of this was expected to melt on Monday. Even though colder air is moving in, the ground has been warmer than average recently, which takes a bit to cool down. Roads will likely be more wet and slushy than icy, however overnight lows below freezing will increase the chances of ice developing Tuesday morning.
The heaviest, most consistent snow fell between 2 a.m. and 6 a.m. in the mountains.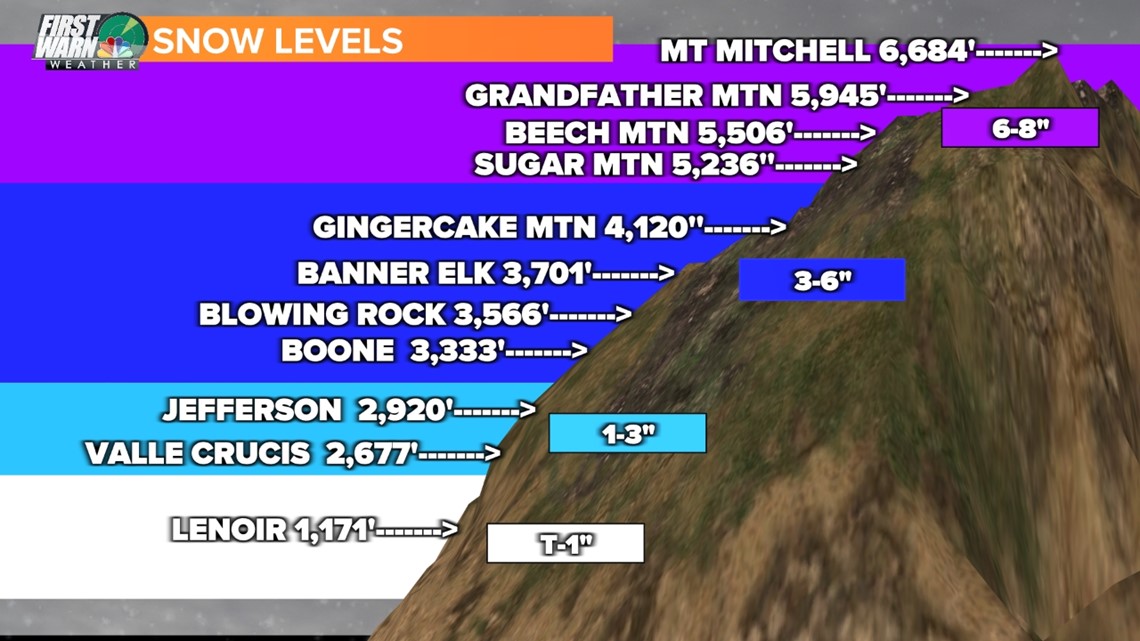 Areas that are in the Winter Advisory include the mountainous part of Burke and Caldwell counties. Charlotte's biggest concern should be ice on Tuesday morning.
"Our main issue overnight tonight, because temperatures will fall into the 20s, black ice could be a major issue on the highways tomorrow," forecaster Larry Sprinkle said.
Did Charlotte see snow?
There was an actual chance, but most of it mixed with rain or was "white rain" (snow that melts instantly when it hits the surface).
As mentioned in the tweet above, models showed the best chance for snow was between 6 to 10 a.m. with the above model showing some snow mixing in around 8 a.m. Temperatures hovered in the upper 30s to around 40 degrees Monday.
This may seem warm, but sleet formed and fell on the first day of winter when Charlotte had a similar temperature profile to it experienced Monday. Anyone outside of the mountains could see some snow mix in, but road conditions and other dangers will be the same as if it was just all rain.
Power outages
Tens of thousands of people lost power Monday due to heavy rain, strong winds and downed trees across the Carolinas. Duke Energy reported over 59,000 outages in the Charlotte area, with around 14,000 of those outages being in Mecklenburg County.
By the evening crews had worked to restore power to nearly half of its customers but still planned to work through the night.
"So there's a lot of work -- it's a grind if you will," Duke Energy spokesperson Jeff Brooks said.
Wind Damage
Other parts of the Charlotte area also saw downed trees and buildings destroyed due to the high winds. A storage place in Mooresville had much of its roof and siding blown away.