CHARLOTTE, N.C. — Downed trees are leading to widespread power outages across the Carolinas are Sunday as the heavy bands of Tropical Depression Florence have moved into the Charlotte area.
Trees have been reported down in Iredell, Mecklenburg, Union, and York Counties, along with localized flooding as the storm continues to dump heavy rain on the Carolinas.
Chief Meteorologist Brad Panovich said flash flooding will continue to be a huge threat through Sunday afternoon as the slow-moving storm creeps toward the mountains of western North Carolina.
"If it sits for six hours, some areas could see two, four, maybe five inches on top of the three-to-six inches of rain we saw in the past 24 hours," Panovich said.
As of 9:20 a.m. Sunday, Duke Energy reported over 16,000 outages in Mecklenburg County. A Flash Flood Warning is in effect in Mecklenburg County until 1:30 p.m. In total, over 413,000 Duke Energy customers are without power due to the storm.
Even before Florence reached the Queen City, several neighborhoods reported trees toppling due to the wind. Now, trees will likely fall victim to oversaturated ground and flash flooding. Downed trees could lead to even more power outages through Sunday night and into Monday. Panovich said wind gusts Sunday could reach 40-50 mph in some areas as a Wind Advisory is in effect until 8 p.m. Sunday.
RELATED: Firefighters pray at scene where mom, baby killed during Florence
In north Charlotte, a massive tree split in two and fell on multiple homes Saturday. Fortunately, no one was injured during the scary incident.
A tree from a neighbor's backyard fell onto a home in Myers Park. Neighbors tell NBC Charlotte a baby was asleep inside when the tree crashed onto the roof, but luckily, no one was hurt.
PHOTOS: Your pics as Hurricane Florence batters the Carolinas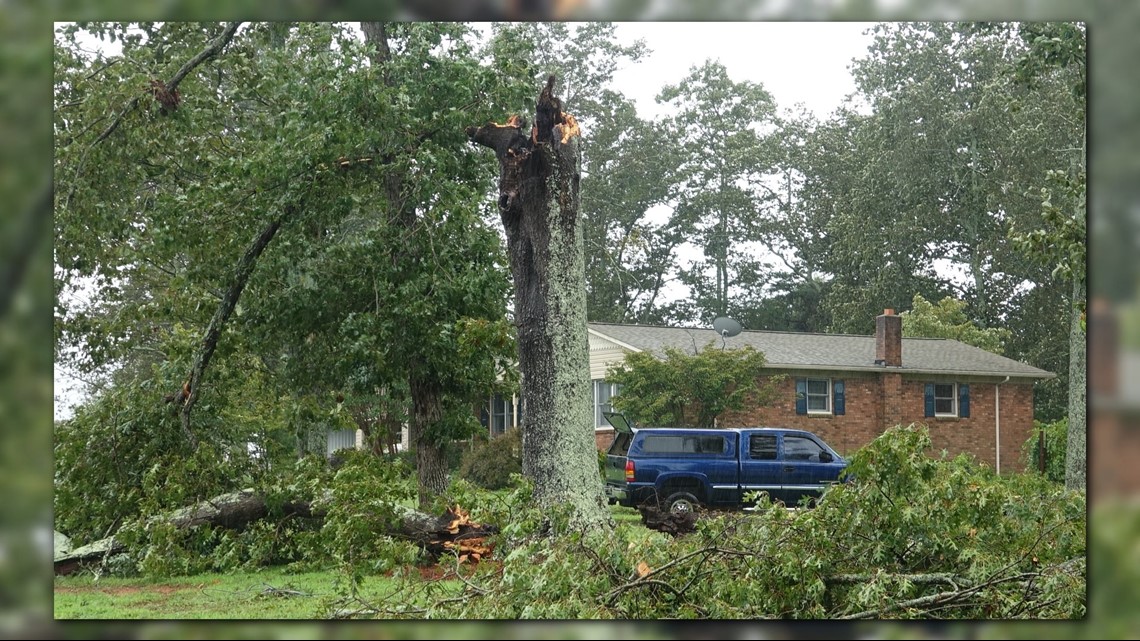 "This is a big house and just a bigger tree has completely covered it, so it's really scary," said Kelly Lolli, who lives close by.
On Saturday a tree fell on a home in Rock Hill. Officials said the home has major damage. JUST IN from Rock Hill Fire Department. Major damage to a home on Ebenezer Rd. after this massive tree fell overnight.
A few blocks away in Myers Park, a large tree fell across a cul-de-sac onto a car. Anshuman Mandal, who lives in the cul-de-sac, said the car belonged to a friend who was staying with him.
Mandal said everyone in the household moved their cars to the cul-de-sac the night before because they were worried a different tree nearby would fall.
"You never know what's going to happen," Mandal said. "This tree, we never expected it to come down."
Another tree in the neighborhood split off close to several homes but didn't cause any damage. Tree removal crews were out clearing the road from any downed limbs Friday evening.
"Glad that this one was removed," Tripp Rudisill, who lives close by, said, "but hopefully there won't be any more that this happens to."
Across the area, a woman reports a tree falling onto her home in Concord. The wind sent a tree toppling into power lines in the Whitesville Park neighborhood in Fort Mill. A downed tree caused power outage and a power pole to snap in the Ballantyne area.