CHARLOTTE, N.C. —
The 2021 Atlantic hurricane season was another one for the record books with 21 total named storms, including four major hurricanes.
2021's named storm count was the third-most on record, and it was also the third time the alphabet name list was completed. It was the second straight year it happened, too.
Seven of those 21 named storms reached hurricane strength. Four hurricanes were classified as major hurricanes. A major hurricane is a Category 3 or greater, meaning the sustained winds are 111 mph or greater.
Elsa (Category 1: 75 mph)
Grace (Category 3: 125 mph)
Henri (Category 1: 75 mph)
Ida (Category 4: 150 mph)
Larry (Category 3: 125 mph)
Nicholas (Category 1: 75 mph)
Sam (Category 4: 155 mph)
When is hurricane season?
Hurricane season starts June 1 every year and ends Nov. 30. This time frame is a total of 183 days and the official peak is Sept. 10. Forty percent of all hurricanes and tropical storms form in the month of September.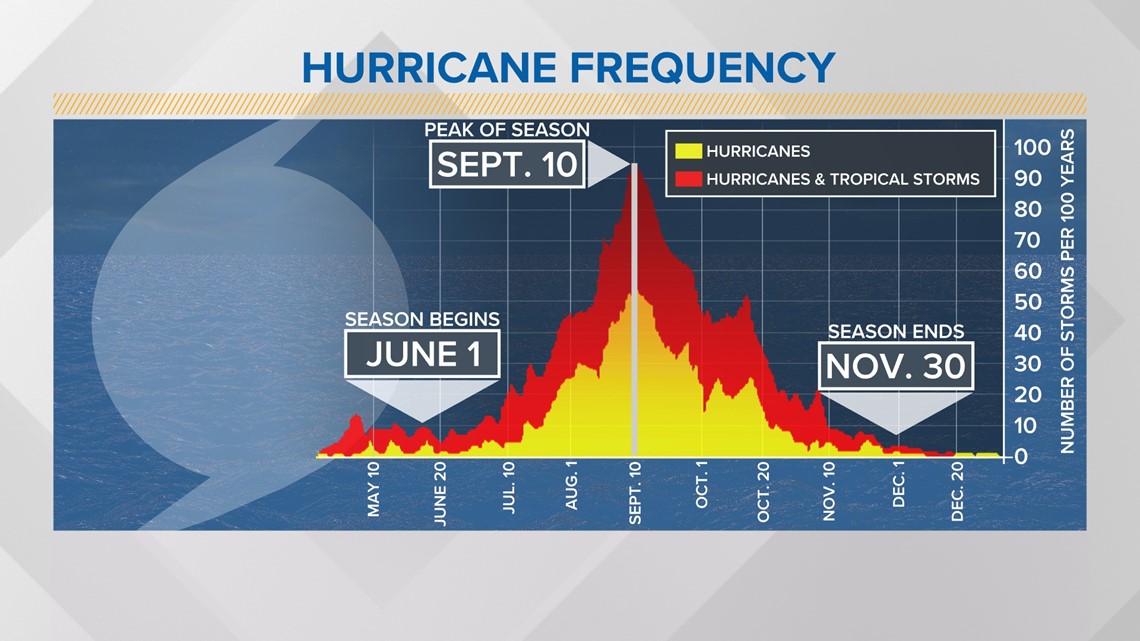 However, the technical start of hurricane season is when the first storm forms. This season, the first storm, Ana, formed on May 22. The National Hurricane Center is noticing the season is starting earlier each year. This year, they issued the Tropical Weather Outlooks on May 15 (two weeks early). This looks to be a permanent change going forward.
Another early start
For the seventh year in a row, the first named storm was born before the official beginning of hurricane season.
2015: Ana - May 6
2016: Alex - Jan. 16 (one of the earliest storms to ever form)
2017: Arlene - April 16
2018: Alberto - May 25
2019: Andrea - May 20
2020: Arthur - May 16
2021: Ana - May 22
Above-average landfalls
Eight of the 21 named storms made landfall this year starting with Claudette in June and ending with Nicholas just after the peak of hurricane season in September. This was three less than the 11 to make landfall last year in 2020. NOTE: The average number of landfalling tropical storms and hurricanes each year is only three.
Claudette
Danny
Elsa
Fred
Henri
Ida
Mindy
Nicholas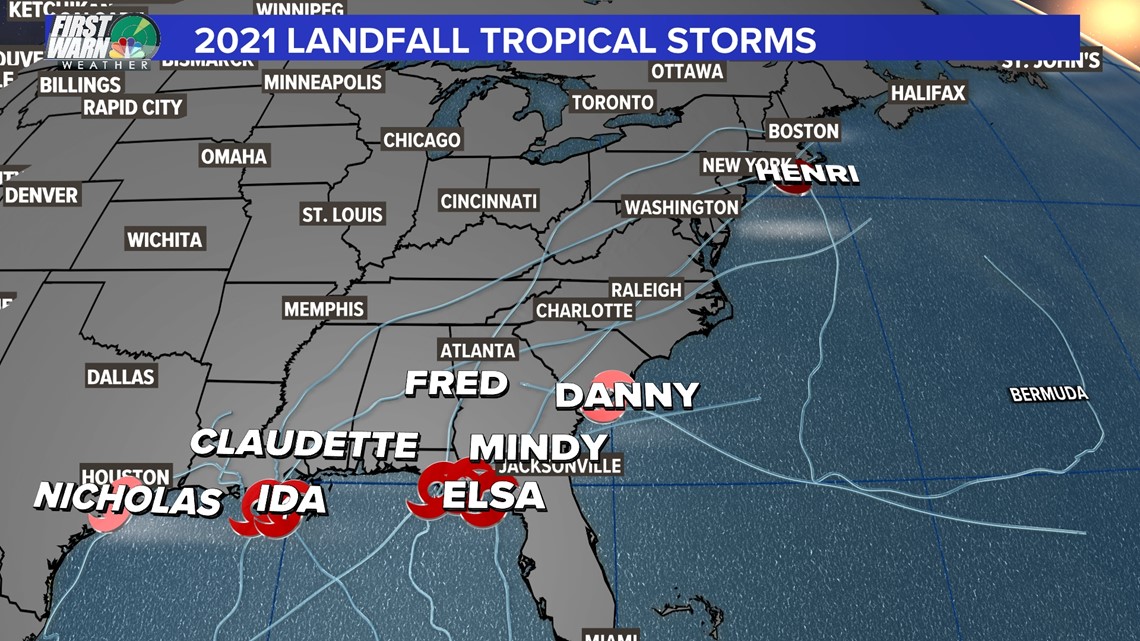 Recap and stats
Elsa was the first hurricane of the season and also broke a record. Elsa outpaced 2020's Edouard by for days for the earliest 'fifth storm' of the season or earliest 'E name' on record.
Tropical Storm Fred made landfall in Florida but the biggest story was here in the Carolinas. The remnants of Fred dumped several inches of rain across the Western Carolinas leading to catastrophic flooding and landslides. Five total were confirmed dead from the Pigeon River flood. This was a similar event to what happened at the Hiddenite Campground here locally in November 2020.
The remnants of Fred also prompted 37 Tornado Warnings here in the Carolinas from Greenville-Spartanburg's National Weather Service office. This did lead to one confirmed tornado in Iredell and Alexander County.
The most devastating storm: Hurricane Ida
Hurricane Ida made landfall in Louisiana on Aug. 29, 2021, which coincidentally was the same day as Hurricane Katrina in 2005. Both historic storms made landfall in Louisiana within six hours and 4 miles of each other.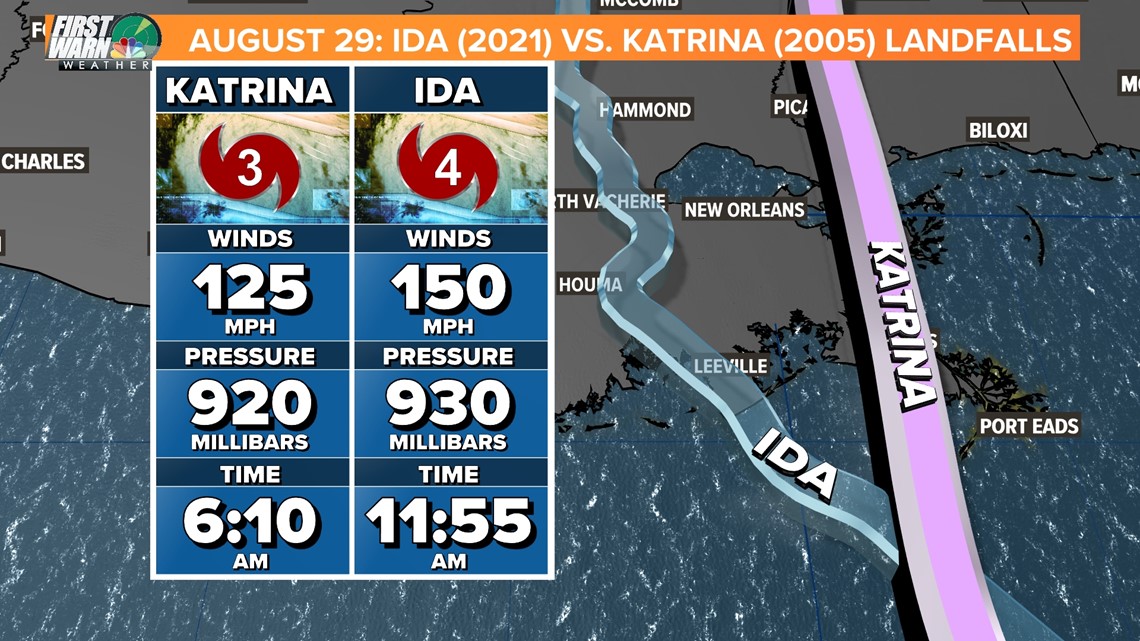 Ida has sustained winds peak at 150 mph at landfall. Before it reached Louisiana, it went through a process called 'Rapid Intensification.' Other notable storms that have done this are Hurricane Katrina and Hurricane Michael.
Ida made landfall near Port Fourchon, Louisiana, around 11:55 a.m. Central Time.
Ida tied Hurricane Laura (2020) and the Last Island Hurricane (1856) for the strongest hurricane to ever make landfall in Louisiana.
At one point, Ida caused the Mississippi River to flow backward.
As a Tropical Depression and remnant low, Ida dumped 8 to11 inches of rain just two weeks after Hurricane Henri caused flooding problems in New York, Connecticut and New Jersey.
New Jersey had an EF-3 tornado spawn from Ida. This was the first tornado of this strength in over 30 years.
The strongest hurricane
Ida by far was the most destructive but it was not the technical strongest of the season.
Hurricane Sam was just a 'fish storm' (one that stays out in the Atlantic with no bother to any land) but it became the strongest storm of the season. Sam reached a peak of 155 mph (only 2 mph from 157 mph which is deemed as Category 5 strength).
Sam was also the longest-lived named storm of the season. Sam lasted 12 days and was a hurricane for 11 days. It also had the highest A.C.E. (Accumulated Cyclone Energy) which calculates a storm's overall strength, factoring in duration and peak winds.
Sam had a total A.C.E of 53.8
Larry had a second highest A.C.E. of 32.8
Ida was third with only 10.8 because it did not last nearly as long as the above two
A quiet end to the season
After Sam, a change in the jet stream filtered in some cooler air which lead to the increase in some wind shear. Also, dry air hovered over the Gulf just in time to calm the Tropics. Last year had the opposite set up as this year, which is why it saw six hurricanes form in October and November (Gamma, Delta, Epsilon, Zeta, Eta and Iota).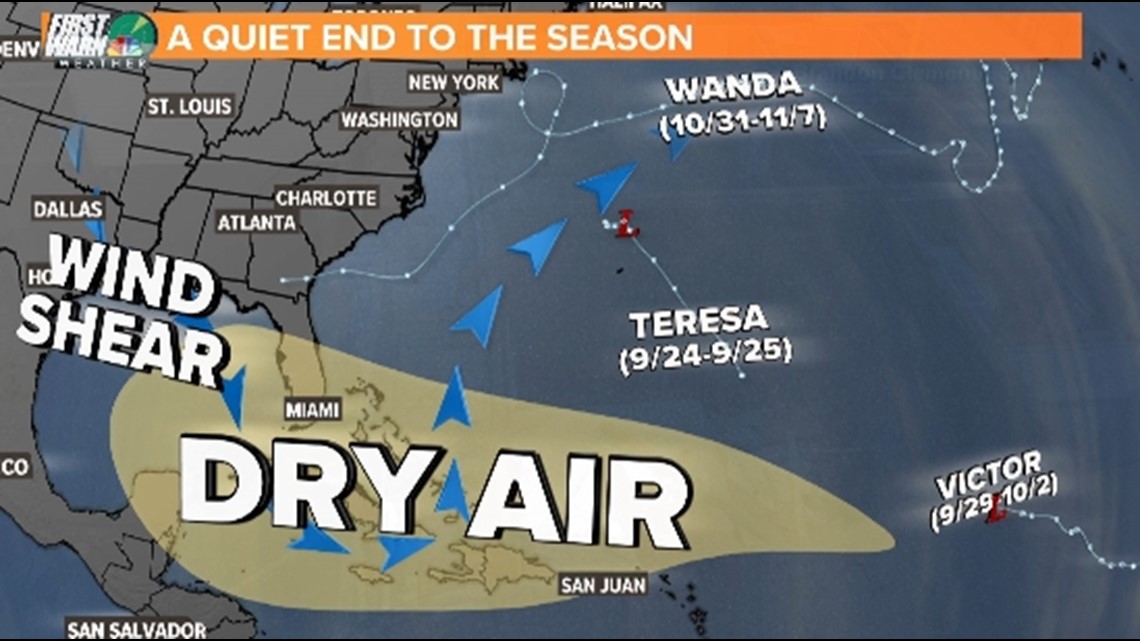 Wind shear causes tropical storms and hurricanes to become disorganized because stronger upper-level winds disrupt the storm from tightening up and defining its center. Hurricanes love to feed off of warm and moist air. When dry air or Saharan dust is present, it inhibits thunderstorm formation which is the starting block for tropical cyclones.
Conclusion
The end of the season and comparing the season to last year, makes 2021 seem inferior. 2021 may be the third most active season on record, but it will be remembered as the season that produced Hurricane Ida. Proving, in any given season, it only takes one storm to make it memorable.
All of WCNC Charlotte's podcasts are free and available for both streaming and download. You can listen now on Android, iPhone, Amazon, and other internet-connected devices. Join us from North Carolina, South Carolina, or on the go anywhere.