CHARLOTTE, N.C. — Editors Note: On this Doctor's Appreciation Day, we thought it would be a good opportunity to hear from a doctor on the frontline of the COVID-19 outbreak. The words below are those of Dr. William French, a North Carolina doctor in his first year of residency, and brother of WCNC Charlotte's Sarah French.
"It seems, on this Doctor's Appreciation Day, that all eyes around the world are on the Coronavirus Pandemic. As we see the case numbers begin to rise, especially in the metropolitan areas of the United States, it's clear just how quickly the disease can spread and spiral out of control. It hasn't really hit our hospitals that hard yet. But we are aware that numbers can rapidly escalate, even over the span of a single day. We do have some positive patients currently, but it's a lot of anticipation at this point. We are living with the expectation, as are most hospitals, that we are going to get a large influx of these patients, so we are trying to be as ready as possible for that.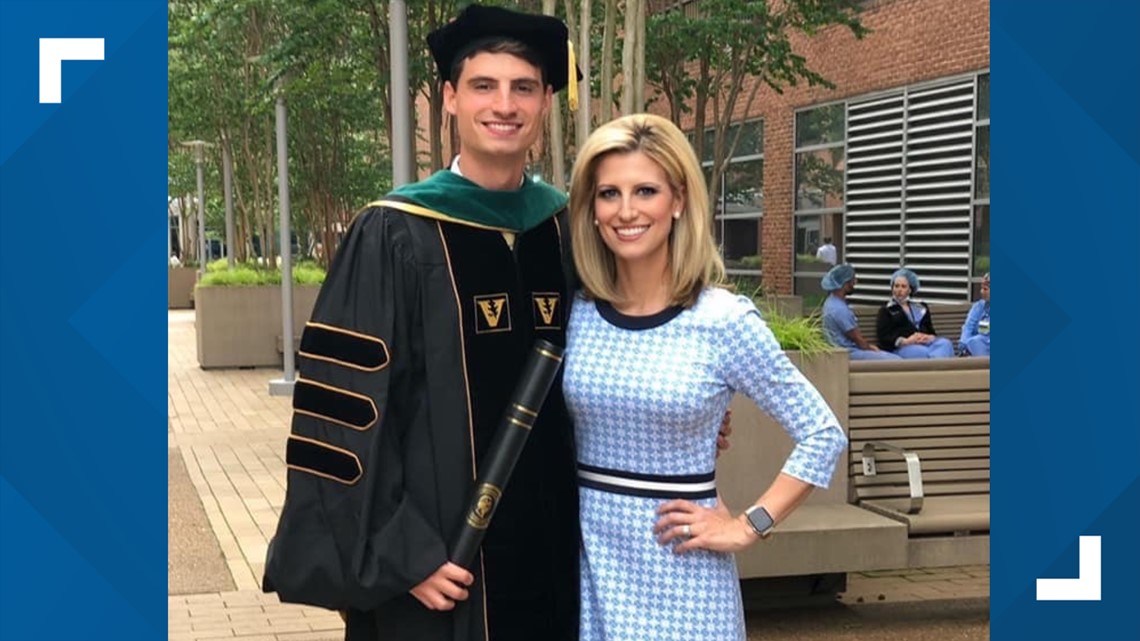 The most pressing problem at this point appears to be the availability of personal protective equipment (PPE). Normally, PPE is one time use only. You wear it if the patient has some type of communicable or infectious disease, and then you're supposed to throw it away after the visit. That's dictated to us through national guidelines. However, in a time such as this, we've recognized we don't have an unlimited amount of PPE, and our system was not ready for the amount of PPE we were going to need for something of this magnitude. As a result, a lot of hospitals are having to compromise on how that PPE is being utilized. For example, in New York City, which appears to be the new epicenter of the pandemic, healthcare workers are being asked to utilize PPE for up to a week. I've even seen pictures of individuals using trash bags as gowns circulating on social media. This is far from what we are used to. At my hospital, we are not in such dire straits as that; however, changes are being made. Normally, in the operating room, we only use one mask per surgery, and now we're using the same mask for an entire day in an attempt to conserve. In order to facilitate this, our hospital has consolidated all of the masks on the operating room floor to one room, and you practically have to go in and check out your one mask for the day. It seems extreme, but most of my colleagues and I agree it's necessary.
As a resident, working in a healthcare setting, most of us have come to terms that we will probably get COVID19 at some point. Ultimately, we will try our best to avoid that because it just takes us out of the workforce and raises our risk that we'll spread it. That's the danger for most young people out there, that they will spread the disease to other, more vulnerable, people. So, it's important for everyone, old and young, to respect what's going on with this pandemic. Taking it seriously and following what the medical community is asking the public to do is very important. Things like washing your hands and physical distancing are attempts to slow things down so our healthcare system does not get overwhelmed and to avoid losing lives that otherwise would not be lost.
It is a dark time, but I still truly feel blessed to be a part of this profession. I feel blessed to carry on a longstanding family legacy. My great-grandfather was a general practitioner in rural Mississippi, my grandfather a general surgeon in Arkansas, and my uncle a surgeon in Washington D.C. These people were my inspiration and mentors, and I can't ever repay all they have done for me. But I am also blessed by the physicians and healthcare workers I am working alongside now. I have attending physicians, senior doctors, I'm working with who have had long careers, and none of them have ever seen anything like this. Many of them fall into the high-risk age range for coronavirus infections, and as we have seen around the world, healthcare workers are not immune to the disease they are trying to fight. This is their profession. They have been taking care of people for 40 to 50 years of their lives, and they're not going to stop now. That's something I'm so proud to be a part of.
As I reflect on this Doctor's Appreciation Day, what I'm seeing around the world is concerning, but I'm also seeing so much courage. Courage from people who are not willing to give up on other people. There's a plaque that has been passed down in my family, from physician to physician, which says "I treat, but God heals." It gives me courage and energy to work hard on the things I can control, and to have faith and peace towards the things I can't. That is my prayer today, not only for doctors and healthcare workers, but for everyone who has been touched by this pandemic. The path forward is uncertain, but if we press forward, and do our part, we will make it through. Together."
MORE COVID-19 COVERAGE ON WCNC CHARLOTTE: