CHARLOTTE, N.C. — In the middle of Plaza Midwood, right off Central Avenue, is a one-story, 1,000-square-foot building. It's surrounded on three sides by a 323-unit apartment building and looks totally out of place.
But that's what gives the Thirsty Beaver Saloon its charm, and part of what helped this unique watering hole become one of the most notable dive bars in the country.
The bar is owned by brothers Mark and Brian Wilson. It was 15 years ago when they decided that Charlotte needed a real, down-home neighborhood bar. It didn't have to be large and fancy, just a comfortable spot with country music on the jukebox and plenty of cold beer.
The brothers wanted a place where bikers, teachers, construction workers and lawyers could all hang out together and have a good time. Because of this, the Thirsty Beaver is probably considered to be the bar "where everybody knows your name." It's Charlotte's own version of what "Cheers" accomplished on TV over 40 years ago.
On the walls hang classic posters of famous, and some not-so-famous, country music artists, along with some of the legends of NASCAR.
There is also a bar that features a collection of vintage 45 RPM records.
Not all of the chairs match and there's room for only two pool tables. Outside the saloon are a few more chairs and tables. All of this makes for a watering hole where the clientele keeps coming back week after week, year after year.
In 2015, the land around the bar was sold to a developer that wanted to buy the property, but the offer was rejected. Another offer was made and rejected.
That developer even built a fence around The Thirsty Beaver, hoping to discourage business, but that didn't stop the Wilson Brothers. With some "encouragement" from the fire inspector, the fence was removed, construction continued and the Thirsty Beaver saloon stayed the same.
One night in September of 2021, The Thirsty Beaver Saloon became an international news story.
On that night, rock'n'roll legend Mick Jagger decided to stop in for a brew and take a few minutes to hang out and enjoy his beverage without anyone realizing he was there.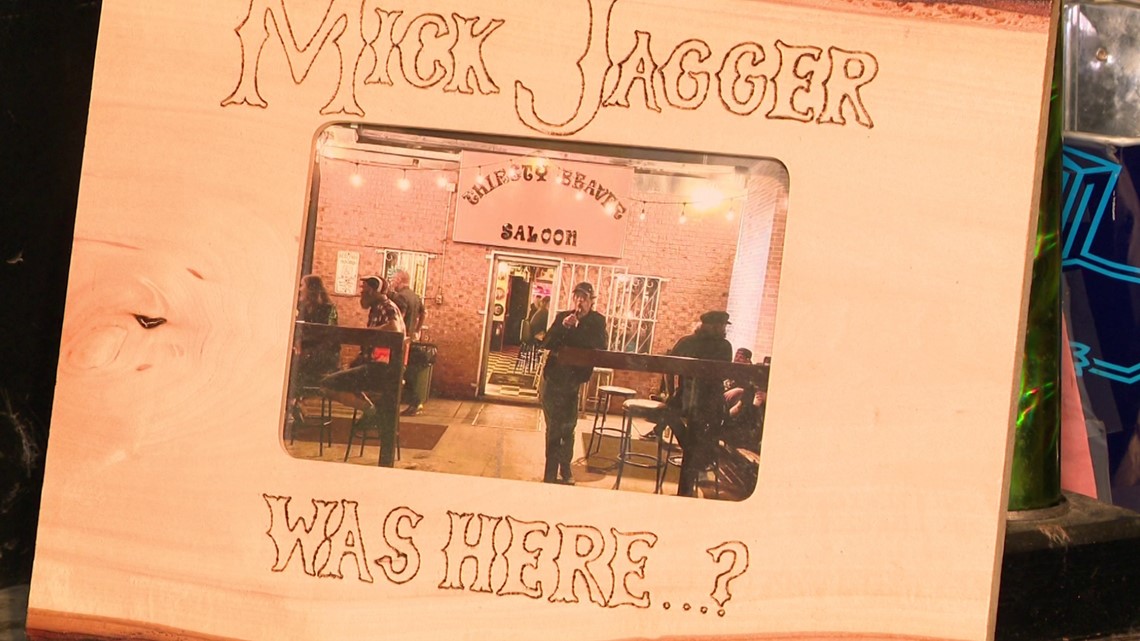 That visit put this Charlotte landmark on the map and has made it a stopping place for people to pose for a picture in that same spot and have a drink and maybe even buy a collector's T-shirt.