WCNC Charlotte honors nurses for National Nurses Week
We're featuring nurses caring for our communities here in the Carolinas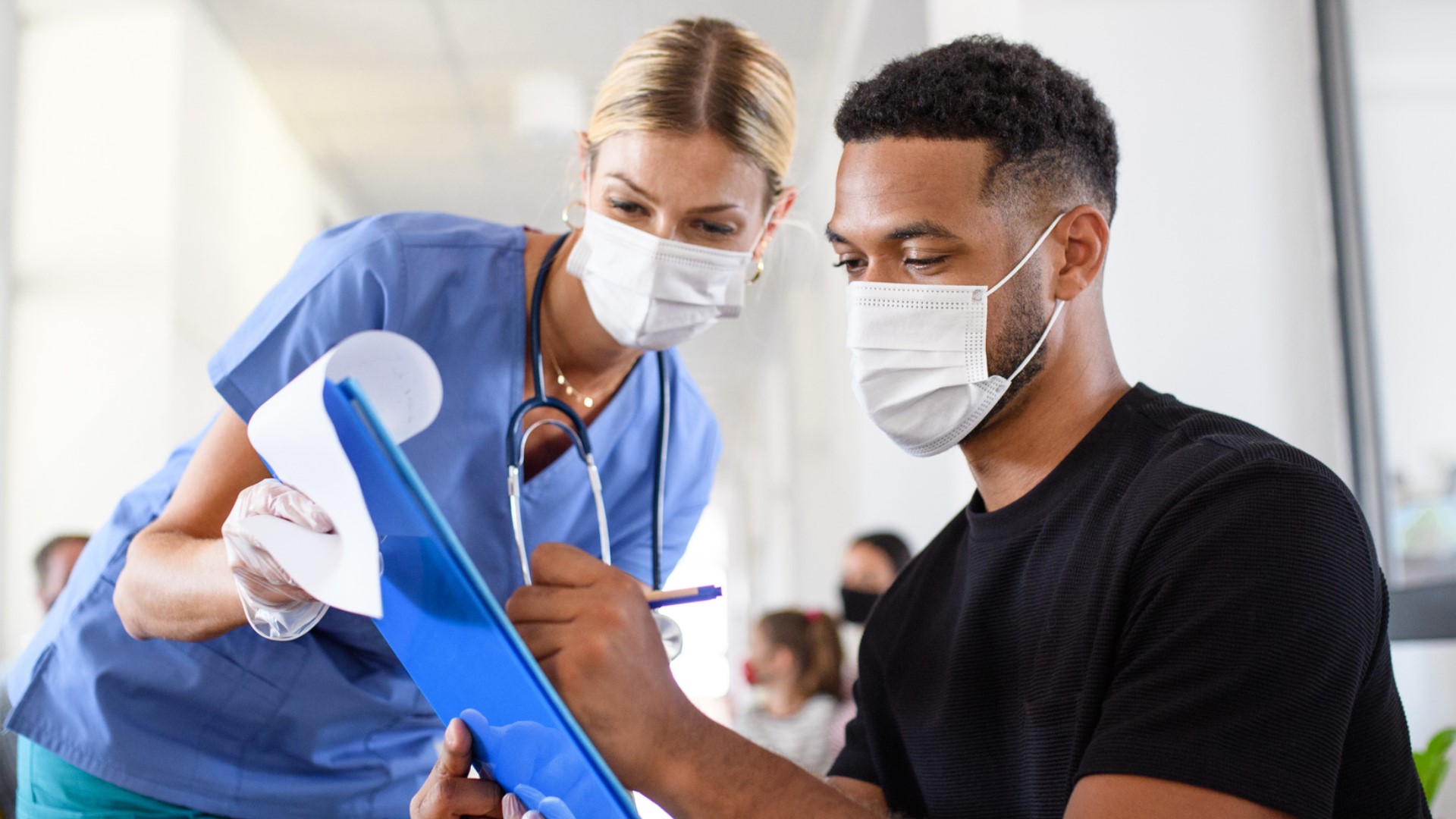 Nurses have been the backbone of the front lines throughout the coronavirus pandemic. National Nurses Week is May 6 through May 12, a time to recognize the dedication of nurses who are doing life-saving work.
WCNC Charlotte is recognizing local nurses to thank them for all they have done for the community. We're highlighting the people caring for our communities here in the Carolinas.
Chapter 1
:
Samaritan's Purse
Erin Holzhauer is a nurse with Samaritan's Purse and their Disaster Assistance Response Team.
New Year's Day 2021 was supposed to be a new, fresh start. But COVID-19 cases were peaking and Samaritan's Purse was putting up a field hospital in Lenoir.
"It was a little surreal. Normally we're packing a bag and hopping on a plane so to be able to drive 45 minutes from my home to go to disaster response was unlike anything we've had to do before," Erin Holzhauer, RN, MSN said.
She is one of the nurses who cared for dozens of COVID-19 patients in the tents in Caldwell Memorial Hospital's parking lot. A job that hit a lot closer to home.
"It was also a really great opportunity to serve our own community," she said.
Holzhauer wanted a career that could take her around the world, but she wasn't expecting it to be because of a global pandemic.
"I was at the hospital in Cremona, Italy which was our first COVID hospital," Holzhauer said. "The pandemic was still pretty new, there was a lot we didn't know about COVID so it was kind of a scary response going into it."
When the pandemic shut the rest of the world down, there was an even greater need for her work.
"You really get to enter people's lives at really, really low points and just try to be this light and this elevation and support when maybe they feel like there's not a lot of people or things in this world that are there to support them," Holzhauer said.
A reminder of just how critical nurses are.
Chapter 2
:
Novant Health
Latifah Jeter is an ICU nurse at Novant Health, and this past year she balanced working in the COVID-19 ICU with getting her Nurse Practitioner's degree and being a mom to young kids.
"Over this past year, I can say I've cried so much. And I can cry right now thinking about it but you've just got to keep smiling and hang in there," Jeter said.
She has smiled her way through some of the toughest days because her patients and their families needed her.
"You have to be there, and you have to step in where they aren't able to and make sure they feel that safety and security that you know my loved one is being taken care of and they will be okay," Jeter said. "Somehow someway it will be okay."
She learned compassion at a young age helping take care of her brother with cerebral palsy. She was inspired by his nurses and wanted to follow in their footsteps.
"It's very rewarding. You have really to just love it to want to do it," she said.
And after long hours fighting on the front lines over the past year, she still had to go work her most important job, being a mom.
"The first thing you think of is I love what I do. I love where I'm at. But we're the designated COVID unit, it was scary. You don't know if you're going to take something home to your family but you have to take care of your patients," Jeter said.
But she pushed through and has come out stronger.
"Keep compassion and have no fear," she said.
Interest in nursing programs is down, Jeter encourages those who are passionate about it to pursue the path, it's challenging but extremely rewarding.
Chapter 3
:
Piedmont Medical Center
Being a nurse is a tough job and for many, it becomes personal. That's the case for Heather Marquis, a nurse at Piedmont Medical Center.
Medicine is Heather Marquis' second act.
"This is for me, this is what I want to do, I want to be able to make a difference," Marquis said.
After working as a restaurant manager, 11 years ago, she went back to school. Now she's a nurse working in infection prevention at Piedmont Medical Center, COVID-19 turning her world upside down.
"It was learning something new every single day," she said.
Outside of work, like so many others, she couldn't visit her mom who was in an assisted living home with dementia. When she passed away, Marquis hadn't seen her for 4 months. It motivated her focus on the solutions.
"I think making a difference, educating the community, vaccines other things like that so other people don't have to go through that," Marquis said.
She's giving lifesaving shots, hoping it will help the entire community move forward.
"I know not everyone believes in them and a lot of people are concerned and scared but I think that if we want to get back to a normal society, I think that being vaccinated is a good thing," she said.
Changing paths to follow her passion now benefitting her community.
Chapter 4
:
Atrium Health
Atrium Health is celebrating its nurses all month long.
Every nurse has their own reason for getting into the job.
"My mother was my inspiration, she was a nurse she practiced for about 51 years," Jessica Earhart, BSN, RN, CCRN, said.
For many, it was an experience as a kid or young adult that shaped them.
"My grandmother was in the hospitals in the '80s and I just saw how hard the nurses worked," Rob Rose, RN, MS, NEA-BC, said.
And most will say there was another nurse who sparked something in them to realize it was their calling.
"I woke up one day and just decided this is my passion for life and this is what I wanted to do," Melissa Tyo, BSN, RNC-NIC, said.
But every nurse has passion and compassion.
"It's being there for the good times and the bad. It's providing support when no one else is there," Tyo said. "It's the hug, it's the extra love that you give that means so much more than just bringing medicine."
Nurses are fiercely dedicated, even during the most challenging year.
"I never faltered or wavered or even thought about not being at the bedside," Earhart said. "I knew this was my place to be."
Atrium Health is honoring and celebrating its nurses like Earhart, Rose and Tyo all month long.
Most will say they don't do the job for recognition, but they certainly deserve it.
"Losing patients is difficult," Earhart said. "No matter the age no matter the reason, it hurts us emotionally and it can take an emotional toll on us. So, a little bit of recognition can really fill this bucket up to keep us going one more day and remind us why we're in this profession."
That chosen profession makes our community healthier, safer and stronger.
Chapter 5
:
CaroMont Health
Nurses dedicate their lives to their profession. Ileana Avila has spent her entire career at CaroMont Health in Gastonia. The grandmother of eight has been a nurse there for nearly two decades.
Ileana Avila still has the picture from 17 years ago on nurse orientation day at the hospital. Avila didn't realize how much she'd love her new job.
"That's why I'm still here after 17 years," Avila said.
She was inspired by her sister who is also a nurse, but this past year, working in the PICU was the hardest of her career.
"We have lost a lot of patients," Avila said. "I think that was the hardest part of all. Sometimes they didn't have their family when they passed."
It takes a toll both mentally and physically and talking about what keeps her going is difficult and emotional.
"I think I was needed," she said through tears.
Motivated by her eight grandchildren at home, she stepped up and spent extra time with patients who couldn't see their families. Many times, she stayed with them until they passed.
Despite the challenges, she's never doubted CaroMont and the PICU is where she's supposed to be.
"You have to love what you do otherwise you can't do it," Avila said. "It can be so hard sometimes that you have to have love and compassion for them for our patients."
This story will be updated as WCNC Charlotte features nurses from local hospitals and health systems.