CHARLOTTE, N.C. — Mecklenburg County Public Health said the COVID-19 super-spreader event at the United House of Prayer for All People has widened its scope.
The health department now reports 68 cases linked to several days of convocation events held at the Beatties Ford Road church earlier this month.
In addition, officials said at least four attendees brought the virus back to their senior living residence, Madison Saints Paradise South Independent Living, where another cluster was spawned. The congregate living facility now has six cases, and all residents there have been tested for the virus.
The event has been linked to two deaths, including one at the senior living facility.
The infected people have 94 close contacts, health officials said. The health department is currently reaching out to these contacts to have them tested and to ask them to quarantine.
The county first reported on the cluster over the weekend. At the time, nine people had tested positive.
According to Dr. Raynard Washington, Mecklenburg Public Health's Deputy Director, the county thinks the church hosted more than 1,000 people from Oct. 4 to 11, but the largest gatherings with the most potential for viral spread were on Saturday, Oct. 10, and Sunday, Oct. 11.
Visitors came from far and wide, and Washington said they have had to reach out to local health departments in other parts of North Carolina and in South Carolina, Georgia, New York and New Jersey to alert them of the event and have them monitor for new cases in their areas.
"If you have a lot of people come together over several days, it is very high-risk for the virus to spread," said Washington.
According to the church's website, United House of Prayer will host a week of revival services from Monday, October 26th to Saturday, October 31st. WCNC Charlotte's Billie Jean Shaw reached out the church to see if they plan on canceling the events, but haven't received a response.
Meantime, Mecklenburg County is advising anyone who attended recent events at United House of Prayer to monitor for symptoms and get tested for COVID-19.
While the church has declined to host a testing event on its property, Washington said the county is planning two drive-through and walk-up testing events nearby.
Those testing events will take place at the health department's Northwest location, which is at 2845 Beatties Ford Road. People wanting to be tested can show up Thursday or Friday from 9 a.m. to 5 p.m. Anyone who has questions or thinks they might be infected can call the county's coronavirus hotline at (980) 314-9400.
Guidance put out by the North Carolina Department of Health and Human Services says places of worship should limit indoor capacity at 100 people per room and ensure enough social distancing.
"When a lot of people get together, it's very difficult to ensure people are actually maintaining the 6 feet distance. It's important to not just wear the mask but to also keep the distance," said Dr. Washington.
"I'm encouraging everyone in our community, if you receive a phone call from one of our contact tracers please give us a call back, please answer the phone and please cooperate," said Dr. Washington.
"When I'm asking them how they contracted the virus, I'm seeing patients on a regular basis that they got it from going to church and worshipping and not wearing a mask," said Dr. Robin Peace, Southeastern Regional Medical Center
The super-spreader event arises as North Carolina, overall, is seeing its coronavirus metrics rise. The state's average daily cases just matched its levels from July, when viral spread was worst. Hospitalizations are above 1,200 and increasing. Wednesday's coronavirus patient count of 1,219 ranks in the state's top ten highest days of the pandemic.
The concerning numbers prompted Gov. Roy Cooper to pause the state's reopening process at Phase 3 for another three weeks.
North Carolina's Department of Health and Human Services released new coronavirus cluster data by setting, showing cases related to religious gatherings and social gatherings, like parties, family visits, weddings, and funerals have been growing in recent weeks.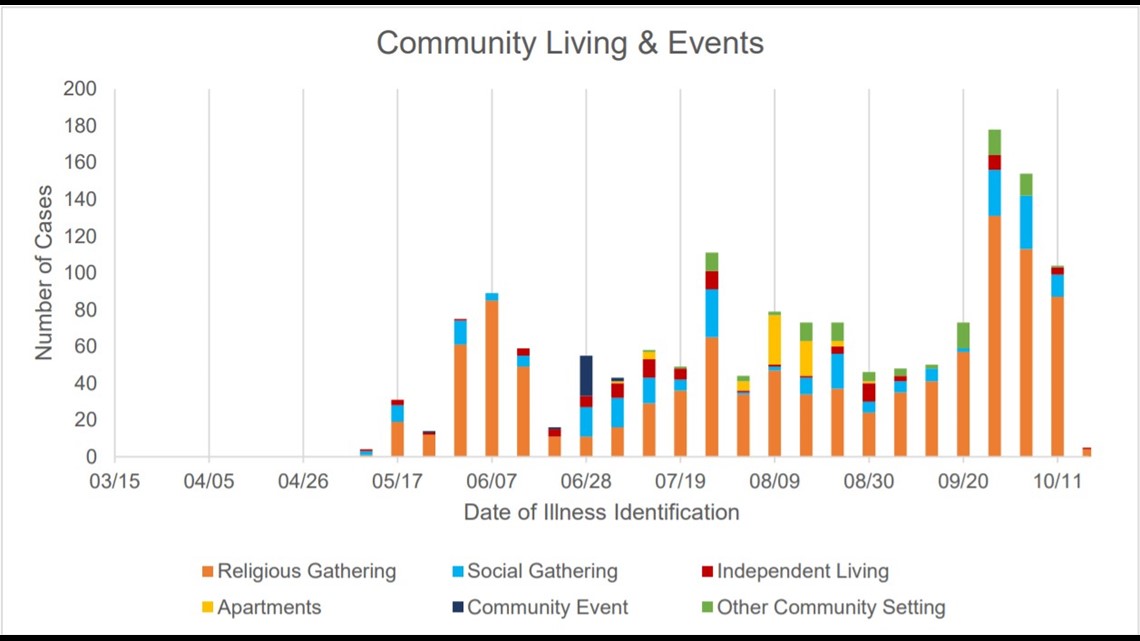 Cooper said it is a reminder that protective protocols like masking and social distancing are important when interacting with those outside one's own household.
"I know it's tiring and difficult to keep up our guard, especially when we're gathered with people we love, but it's necessary," Cooper said. "No one wants to spread COVID-19 accidentally to friends or family."

MORE ON WCNC CHARLOTTE: