CLEVELAND, N.C. — A Cleveland County man claiming to have an explosive device outside the Library of Congress in Washington, D.C. is in custody after surrendering to police Thursday.
Law enforcement identified the man as Floyd Ray Roseberry, 49, of Grover, North Carolina, which is about 40 miles west of Charlotte.
Around 2:20 p.m., Eastern Time, Thursday, after a four-hour-long standoff with authorities, Roseberry could be seen crawling away from his truck. He was taken into custody moments later by U.S. Capitol Police.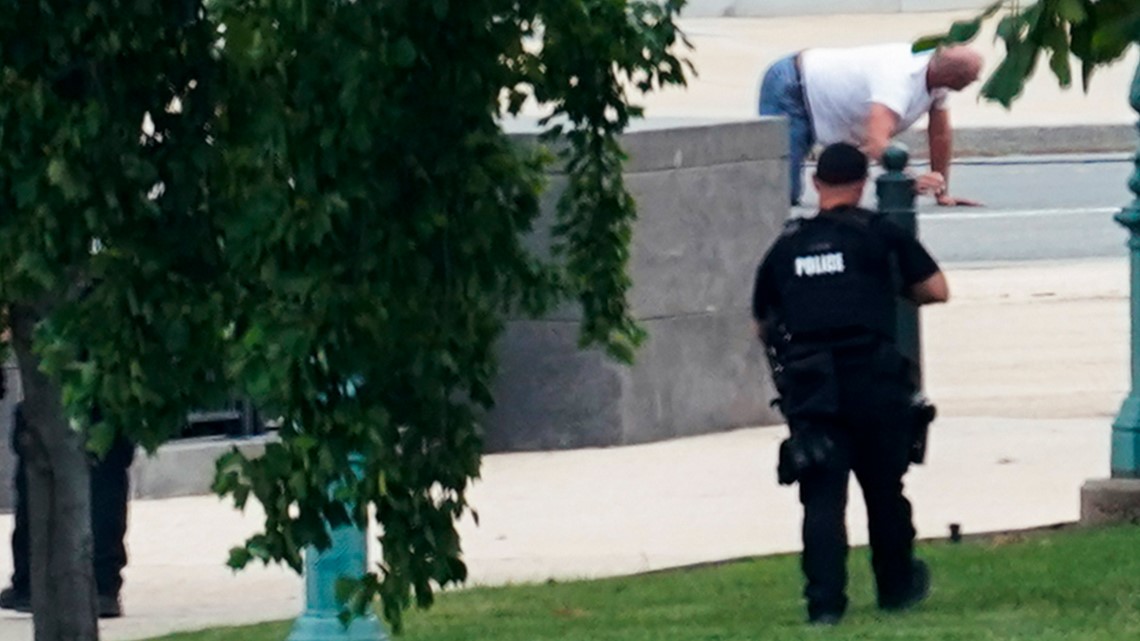 During a briefing in Washington, U.S. Capitol Police Chief J. Thomas Manger said what they know about Roseberry's criminal history in North Carolina is "nothing that serious."
Police are still working to determine the motivation behind his threat but did note his mother recently passed away.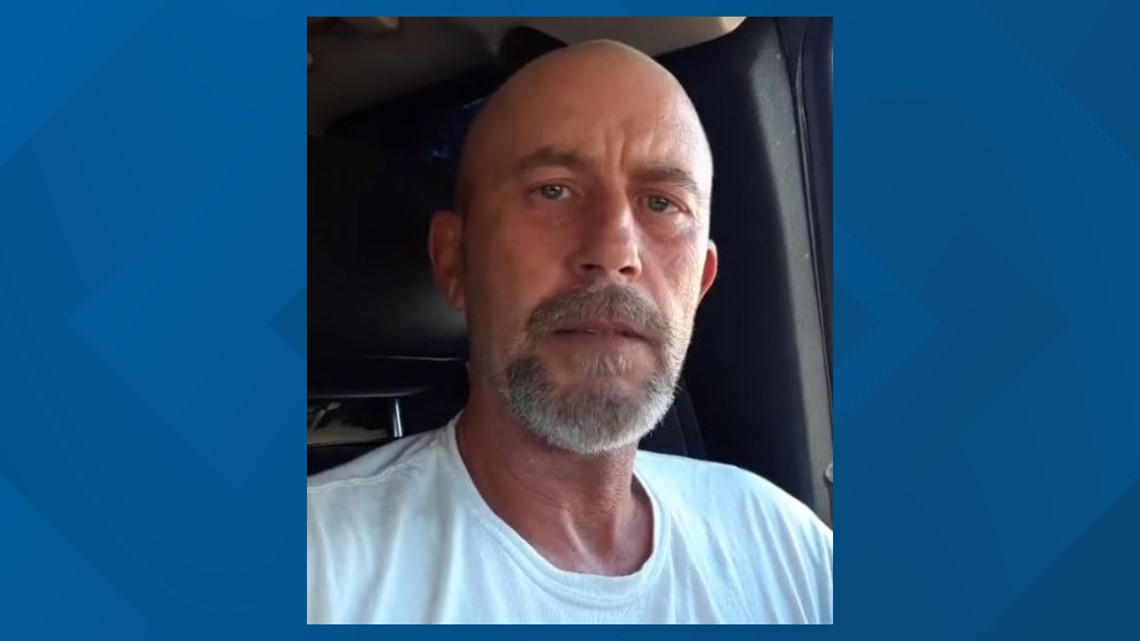 From inside his truck, Roseberry posted a lengthy Facebook video riddled with obscenities where he said "the revolution is on" and that he'd "die for this land."
While Roseberry at times attempted to paint himself variously as the embodiment of "the South" or as a handpicked representative of the American people, much of his motivation seemed to derive from a personal animus against the U.S. health care system.
Roseberry's mother died of cancer, he said, and his wife had been denied insurance coverage for treatment of an unspecified cancer on her face. He claimed he had recently been denied coverage as well for shots "just so I can walk."
Roseberry's wife told NBC News he told her he was leaving for a fishing trip Wednesday night. She also said Roseberry was upset by the last presidential election results and that the first time he ever voted in his life was for former President Donald Trump.
The Facebook videos have since been removed by the social media platform.
Public records reviewed by WCNC Charlotte and WUSA9 showed no significant property assets in Roseberry's name – but they did chronicle a history of financial troubles.
Court records show he filed for Chapter 13 bankruptcy in 1998, which establishes a payment plan for unpaid debts, and then Chapter 7 bankruptcy in 2000. Chapter 7 bankruptcy allows a trustee to sell off whatever assets are available to pay off creditors.
His most recent employment was listed as an assistant supervisor at a women's apparel manufacturer.
PHOTOS: NC man claims to have an explosive in DC
In his hometown, police were seen searching his most recent residence.
The sheriff's office in Cleveland County, North Carolina, and the FBI field office in Charlotte are investigating Roseberry's background. They held a joint news conference after Roseberry's arrest.
Just before 10 a.m. Thursday, Roseberry drove the pickup truck around barriers and parked outside the Library of Congress, according to Pete Williams of NBC News. He then reportedly called 911 and claimed to have an explosive in his car.
The truck Roseberry drove from North Carolina was filled with bags and tubs of loose change apparently designed to turn the vehicle into a huge IED. In his Facebook videos, Roseberry was vague about the nature of the supposed explosive device. At one point he claimed he had a "toolbox full of ammonium nitrate." At another time, he said police should ask their experts "what a 7-pound bag of gunpowder would do with 2.5-lbs. of Tannerite." Tannerite is a brand of binary explosive target most often used for firearms practice.
During an afternoon briefing, Manger said a propane container was found in the truck. While police have determined the container was not dangerous, officials spent the next few hours inspecting the car for any explosives.
A thorough search of the vehicle was only possible after Roseberry surrendered.
Minutes before he was surrounded, authorities used a robot to try and deliver a cell phone to Roseberry. Until that time, Roseberry was also talking to police by holding up a whiteboard.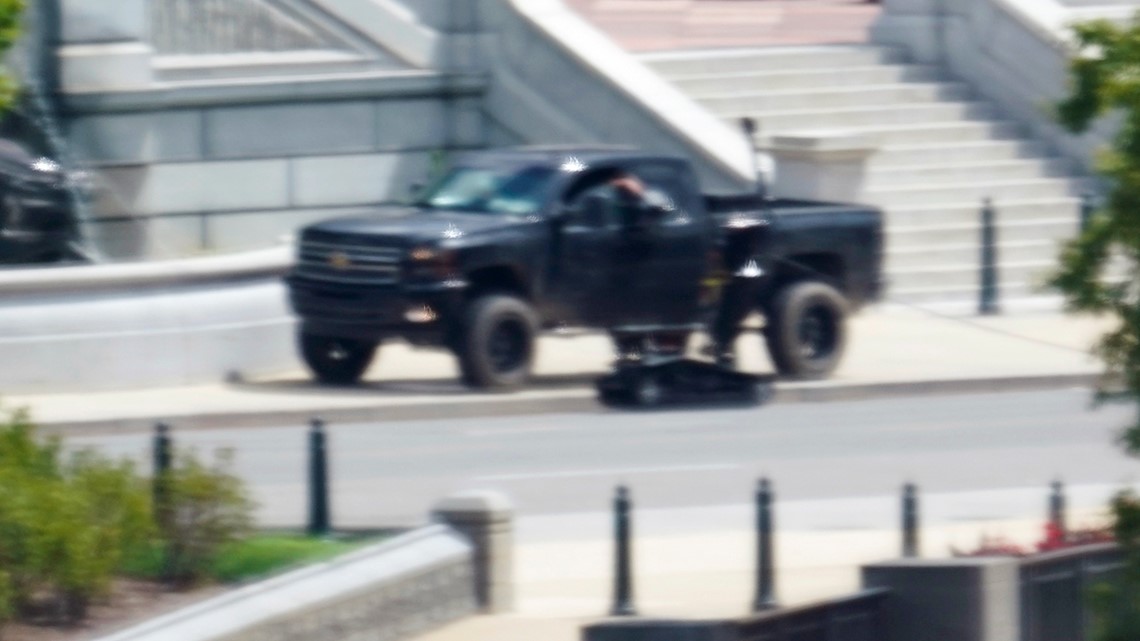 Roseberry appeared in federal court Friday. He is charged with the threat of use of a weapon of mass destruction and use or attempted use of an explosive device. A judge ordered a competency screening for Roseberry. NBC News reported that Roseberry told officials he's having trouble understanding what's happening because he hadn't taken his "mind medicine" in two days.
When the bomb threat happened, United States Capitol Police urged the public to steer clear of the area and set up multiple road closures so they could conduct a thorough investigation.
The Library of Congress building on Capitol Hill is closed and evacuations were ordered. According to sources, staffers in two House buildings were asked to relocate.
The Senate and House are not in session, and most lawmakers are not in their offices.
WUSA's Jordan Fischer and WCNC Charlotte's Nate Morabito, Brandon Goldner, and Hunter Saenz contributed to this report