STANLY COUNTY, N.C. — Julie Davis, a teacher at Norwood Elementary School in Stanly County has died of Covid-19, according to school officials.
"We are deeply saddened and grieving the loss of Julie Davis, a third grade teacher at Norwood Elementary School," Interim Superintendent of Stanly County Schools Vicki Calvert said in a statement.
The school said Davis began showing symptoms on Friday, September 25th and began to self-quarantine. When the school learned of her positive test result on September 27, nurses began working with the Stanly County Health Department on contact tracing. Students and staff who had been in close contact with Davis were quarantined. The school district says no one who was around Davis became symptomatic or tested positive for the virus.
School leaders say Davis did not contract the virus at school.
"During her two years in service to the students of Norwood Elementary School, Mrs. Davis earned a well-deserved reputation as an inspirational teacher who was always seeking ways to support every student so that they were able to fulfill their potential," Calvert said. "She implemented creative ways of teaching and her high standards and expectations motivating others to achieve their best."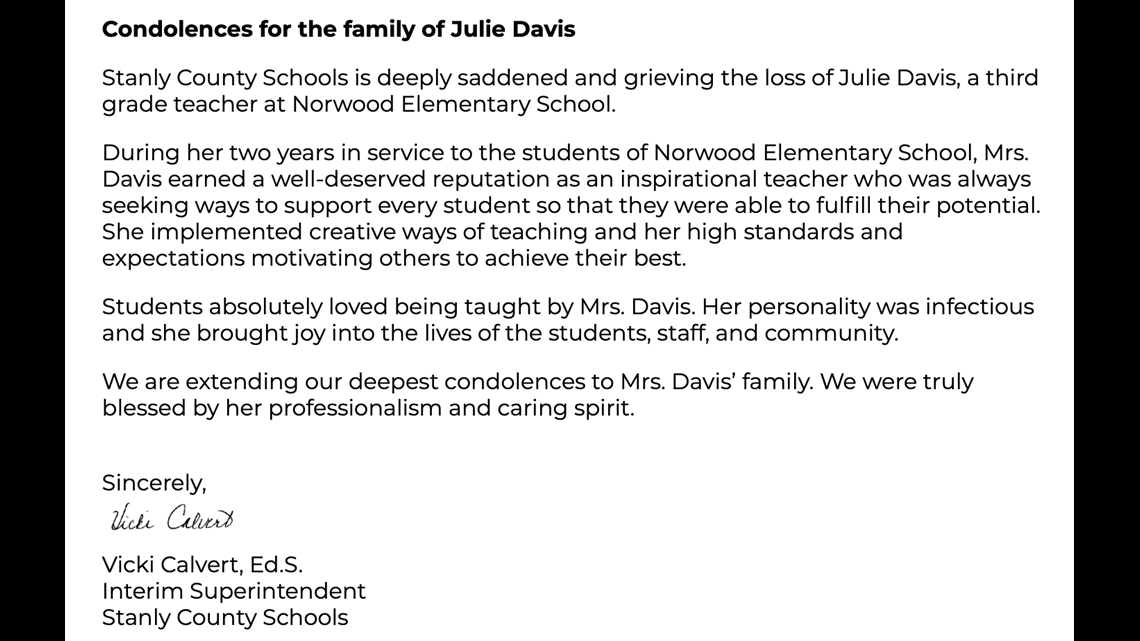 School leaders say only one other person at the elementary school has tested positive for Covid-19. The other confirmed case was unrelated to Davis' illness.
A student in another grade level began quarantining September 3 due to close contact in the community. The student later developed symptoms and tested positive. School officials say the student and Mrs. Davis never had close contact and were in separate buildings.
Calvert said Davis was loved by the students and "she brought joy" into the lives of students, staff members, and the community.
"He enjoyed going to school, he couldn't wait to go be in her class. It's amazing how much he enjoyed her class," said Curtis Swaringen. His son had Mrs. Davis last year.
When Stanly County Schools reopened in August, Kindergarten through 4th graders went back for in-person learning full time.
"She's the type of teacher that she wanted to be there for her students. She loved them and cared about them she wanted to be there face to face with them," said Nora Beasley, a longtime friend of Davis'.
She was fiercely dedicated to her students.
"It's devastating to know that there's no one else that will have that same privilege that my son had to experience that type of teacher," said Swaringen.
"She was the same person inside of the classroom that she was outside of it," said Troy Kryzalka, a longtime friend and co-worker.
Beasley said Davis was always there for her students, willing to drop everything to support those she cared about.
"She was a 3 o'clock in the morning friend," Beasley said. "You could call her at any time and say Julie, I've got an issue, I've got a problem and she'd be right there."
A sign outside of the school reads "heroes work here," and that is how Julie Davis will be remembered.
"Whether you knew Julie or not, think of your child's teacher," Kryzalka said. "Whether it's virtual or in-person, they have other parts of their life. There are other people that love them and depend on them."