CHARLOTTE, N.C. — The Carowinds theme park closed early Saturday night, but park officials said unruly guest behavior led to panic inside.
The amusement park kicked off the spooky season with Scarowinds this weekend. However, a night of thrills turned into a frightening night for families.
"We were walking normally then out of nowhere a massive crowd of probably like, between 50 and 100 people running towards us screaming," Bethany Bloomer said. "So, we ducked over and got out of the way. It was chaotic."
"We were sitting down, and then all of sudden, we saw people running from a part of the park and screaming their heads off saying there's a shooter," Rylan Scott said. "Imagine a big crowd times two. Everyone in the park was trying to evacuate and get to the exits quick."
"There were people getting trampled everywhere because everybody was sprinting as fast as they could," Michael Hibberd said. "I saw people tripping over the flower pots. I was really scared because, especially in America, there's been a lot of shootings going on recently, and sadly, it is one of those things that could happen."
In a statement sent to WCNC Charlotte early Sunday morning, park leaders said they chose to shut down at 11 p.m., saying several groups of minors were causing issues. However, park leaders said the actions of these groups led to rumors that a serious threat was present inside.
When it comes to sounds of gunshots, park officials say it could be a number of things with Scarowinds taking place. In Thrill Zone, for example, there is a cannon that is fired about once a minute to add to the Halloween experience.
There are also up to 300 monsters nightly, for mazes and scare zones are complete with incredible and gruesome makeup, including airbrushing bruises, scars, and fake blood.
Carowinds confirms there was no shooting at the park.
Kris Griffin was at the amusement park with his family. He said there were too many kids there with no chaperones and security was too light to properly handle the size of the crowd.
"They were letting them go through security… setting them off…not wanding," Griffin said. "No bag policy will only do so well."
Carowinds does have a no-bag policy during Scarowinds and guests go through metal detectors to get in.
Griffin said he saw multiple fights break out inside the park.
"There was a teenage individual fighting and security was just ushering them out like a high school fight," he continued. "There was no diffusion. No law enforcement to be seen and so the mob just continued through the park."
Carowinds recommends that minors come with adults and is releasing details of a new chaperone policy Tuesday following the incident.
One mom said she is still shaken up after learning her son was jumped in the park's parking lot by people he did not know and no one stepped in to help.
"My son called and he was very upset because why did this happen? He didn't know the guys and they were perfect strangers," Danisha Ford said.
He said her son is a good kid and he did not deserve to be attacked at Carowinds Saturday. Video circulating on social media captured the incident. WCNC Charlotte blurred the video because minors are involved.
"In the video, you can see him backing up. He is not trying to fight but then people are circling him," Ford said. "Guys just started swinging and he got hit in the back and the side.
York County sheriff's office said there were multiple fights that broke out in the Carowinds parking lot.
Ford said her son was eventually able to get away. Although he had no visible injuries Ford said she sees the pain in her son's eyes. She hopes no one has to go through what he experienced.
"How much self-hatred and anger do you have to have inside for you and your friends to pick a fight with someone innocent," Ford said. "Someone you don't even know his name. You did not even know his name. My message is to get it together."
Guests are calling for more security measures.
"When the park was quote closed there was no announcement on the loudspeaker to exit the park. We made the decision ourselves because things were getting too out of hand," Griffin said. "I would like to see Carowinds do more active training with their security force or look into establishing their own on-site police department as many colleges have."
Carowinds said law enforcement officers were on hand to help guests leave. The large movement of people out of the park caused traffic gridlock as seen by WCNC Charlotte newsroom members on the scene.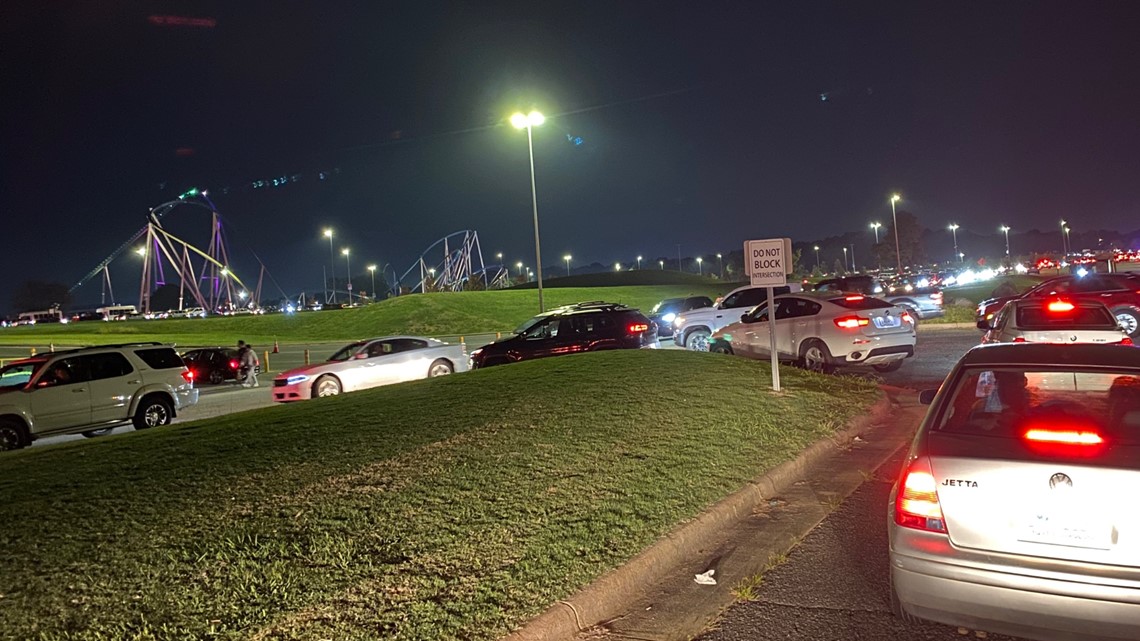 Some visitors said more needs to be done about crowd control at the park.
"I've never seen Carowinds quite as crowded as it was last night, and 90% of the guests there were under 18," Bloomer said. "There were no chaperones, and it was just absolute chaos with the kids."
Carowinds does strongly recommend minors be accompanied by an adult. Park leaders said they plan to fully look into the incident and see how it can adapt its current training and protocols for the future.
The full statement from Carowinds follows:
The safety of our guests and associates at Carowinds is always our top priority. On Saturday, September 17, the decision was made to close the park at 11:00 p.m. ET due to unruly behavior by several groups of minors which led to unconfirmed rumors of a threat to guests. This behavior did not align with Carowinds' values and was not the experience we want any guest to have while visiting the park. As a precaution, local law enforcement was on hand to assist guests in exiting the park.
Some tips WCNC Charlotte received included worried family members who saw social media posts that a gun was spotted or involved. Medic confirmed to WCNC Charlotte they were not called to the scene for any reports of gunshot wounds, and further said York County first responders also had not reported any such calls.
WCNC Charlotte is committed to reporting on the issues facing the communities we serve. We tell the stories of people working to solve persistent social problems. We examine how problems can be solved or addressed to improve the quality of life and make a positive difference. WCNC Charlotte is seeking solutions for you. Send your tips or questions to newstips@wcnc.com.