CHARLOTTE, N.C. — Panthers rookie quarterback Bryce Young's been the talk of the Queen City since he was drafted No. 1 overall by Carolina in April. Now, just a few days before the first regular season game of his NFL career, Young is reflecting on the realization that he's a professional football player.
Young recently sat down with WCNC Charlotte's Ashley Stroehlein for a one-on-one interview to discuss his thoughts on making it to the NFL, earning the respect of veteran teammates, important life lessons he picked up from his parents and a fun subjects, including his favorite Drake song.
What are his thoughts about playing in his first NFL game?
"It's definitely a blessing. It'll be surreal, just for a dream to be realized and be able to do that. I definitely don't take that for granted, but also I understand in the moment, I doubt that's where my mind will be. Obviously there's going to be a game plan and there's going to be a lot of things that we have to execute. My mind will just be on executing and doin what we have to do to try to have success. I think it's going to be really cool. It's definitely a blessing to have this opportunity and I'm excited to be able to go in with my teammates and coaching staff and to be able to experience it with them."
What's the biggest surprise once he got to the NFL?
"I feel like you build a thought of what you think things are going to look like. But you know, one of the biggest things is just how efficient we are with everyone's time and the respect that everyone gets. There's always an emphasis of how strict things are the higher level you get. When you're playing youth football, people always talk about, 'It's going to be this amount of strictness.' There's such a sense of accountability because people understand the consequences of not playing well.
"Because of that, we're able to treat each other with more respect, it's a lot less hand-holding and babysitting. At one time I thought it'd be so strict and it's going to be so much yelling and really we all understand we work hard, we've gotten here, we know what it takes and we're all self-motivated."
What does it mean to have his teammates' support?
"It means the world to me. That's something that's important at my position but at the same time it's not something that I'm entitled to. It's something I have to earn. I'm definitely grateful for that because I feed off of them to offer their leadership, their ownership and with me being new here, there's a lot for me to learn about. I'm trying to do my best to grow in that comfort and leadership. I'm still actively trying to earn that respect."
Is there a player or coach you've gravitated to?
"Definitely Andy [Dalton]. I couldn't tell you the amount of questions I've asked him, whether it's stuff on the field or just operations and how to navigate. For someone like Andy, who's had so much success, has had the career that he's had, he didn't have to. He could just give me short answers. Or he could just be like, 'Hey, look I'm going to just call my plays and you call yours.' But he's had the exact opposite approach. He's come in, he's taken me under his wing and he's gone above and beyond to explain things to me and share his experiences. Because of that I'm super grateful to have him here."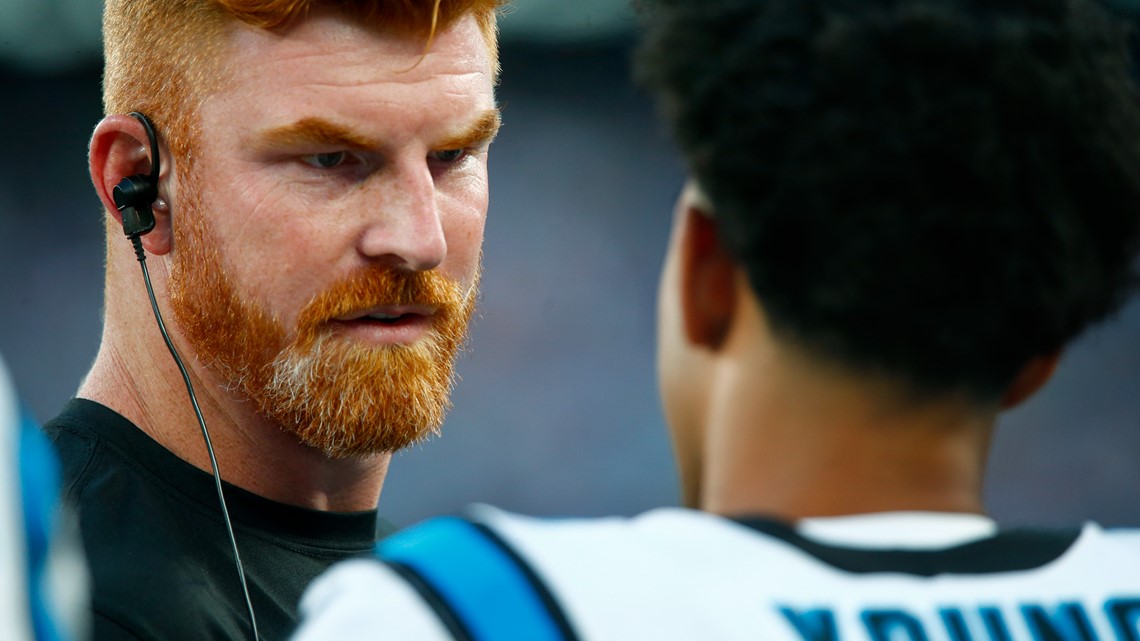 What are your goals off the field?
"I'm a believer. I'm a child of God, so first and foremost, I want to reflect Him. I want to reflect Him with my actions, how I carry myself and just glorify Him, whether it be my play, whatever happens off the field. I'm blessed to be here in the Carolinas and to feel the support every day that I do, whether it's here in the building or when I'm out and about, just the love and support that I felt for a kid from the West Coast, who you know, still hasn't done anything. To be able to feel that really means a lot. I've been embracing this area and I want to do all I can to give back and help the community, as well."
Is there a go-to Bible verse for you?
"I definitely have a favorite verse. I'd say Psalms 23. For me it's my favorite because it's a good reminder ... there are challenges, ups and downs. We all know life isn't perfect but you know, believing God has a plan that he trusts me, he protects you. And because of that I tried to sit off the throne of my life and allow God to lead it."
What's one thing you want to try in Charlotte when you get time?
All-time favorite NBA player?
Pick a starting five for your pickup game.
"I've shot around with some people I know who can for the most part, you know, shoot. But when you're actually playing it's a little different. I can't just give it to anyone without seeing them play. There's a lot of talk in the locker room so after the season we'll going to figure it out and I'll come back with a list."
What song's at the top of your rotation right now?
"'Pink + White' by Frank Ocean's been stuck in my head but that's literally just today. If you'd asked me yesterday it'd been a different song. It's pretty stagnant music-wise right now, waiting on Drake's album."
What's your all-time favorite Drake song?
"You can't do that to me, there's too many. There's like five. Me and a couple of my really close friends really like Drake. We had like, a list we put together of like, per Drake genre or our favorite songs. I probably shouldn't have admitted that. All right, one I'll throw out, I'll throw out 'Jungle.'"
Why is it special to you?
"Gotta leave you on a cliffhanger."
Most valuable lesson from his parents?
"Just empathy when it comes to others. My mom, being a teacher, my dad worked at a school for his profession and dealt with a lot of people, a lot of different circumstances. They're also so empathetic with others and they definitely made a point that we live just with ourselves. We're the stars of our own lives but we're not the only people here. It's not all about us."
All of WCNC Charlotte's podcasts are free and available for both streaming and download. You can listen now on Android, iPhone, Amazon, and other internet-connected devices. Join us from North Carolina, South Carolina, or on the go anywhere.