CHARLOTTE, N.C. — The very first "test train" arrived at the platform for Charlotte's new Gateway Station Tuesday.
The milestone marks the completion of the project's first phase of construction. Once Charlotte's new passenger train station is complete, it will provide Amtrak passengers direct access to Uptown Charlotte, the CityLYNX Gold Line, bus routes, and other local transit.
The North Carolina Department of Transportation was responsible for Phase 1, which saw the construction of the new tracks, passenger platform and supporting rail infrastructure. The phase finished on schedule and within budget, estimated to be about $86.38 million, according to an NCDOT spokesperson and data published by the state. The funding consisted of $30 million from the federal government, $47,350,000 from the state, and $9,034,986 from the City of Charlotte.
"This is the first train to use the newly completed railroad infrastructure at the Gateway Station location, which is an exciting milestone for the project," Lauren Haviland, a spokesperson for NCDOT, told WCNC Charlotte. "The train is being used to test clearances for the newly built boarding platform."
Test train arrives at Charlotte's Gateway Station
The City of Charlotte is responsible for the second phase, which will see the construction of a multi-story, and multi-use building that will feature railroad operations in addition to space for retail, residential, commercial, and dining accommodations.
"We hope to see the Phase 2 work complete and trains delivering passengers to the new station in the next few years," Haviland said Wednesday.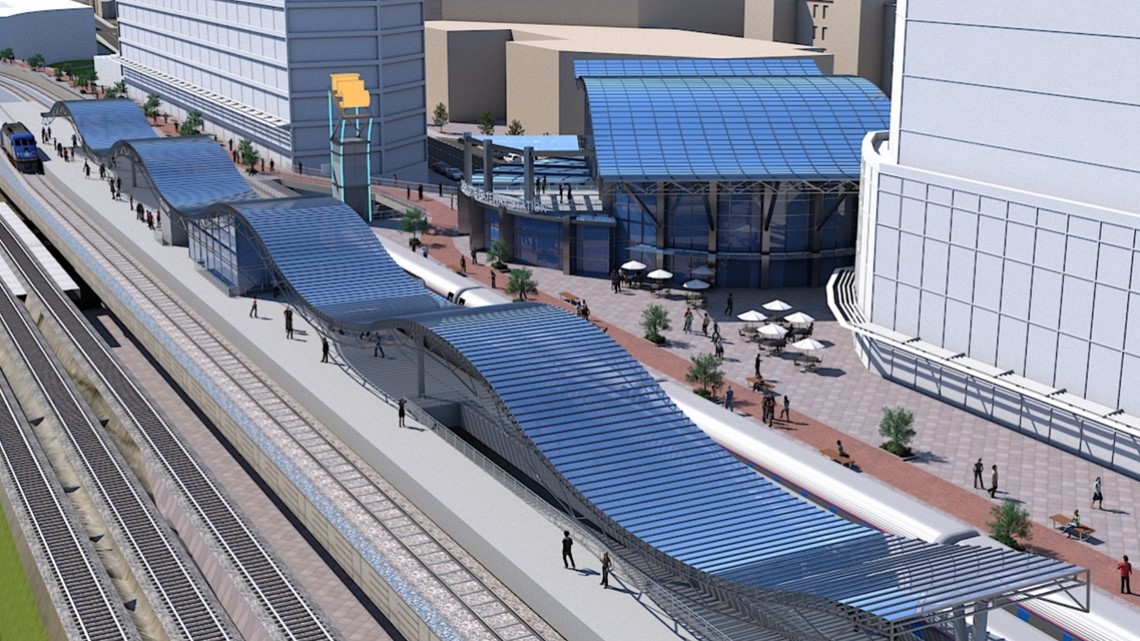 The second phase of construction will see the construction of a new building, which will serve as a transit hub within walking distance of popular destinations including Truist Field, Bank of America Stadium, and Romare Bearden Park. The complex will sit near West Fourth Street and West Trade Street near what is currently the Greyhound Bus Station.
Currently, Amtrak passengers arriving and departing Charlotte use an older station on North Tryon Street, which is served by a single CATS bus route and has limited accessibility for pedestrians.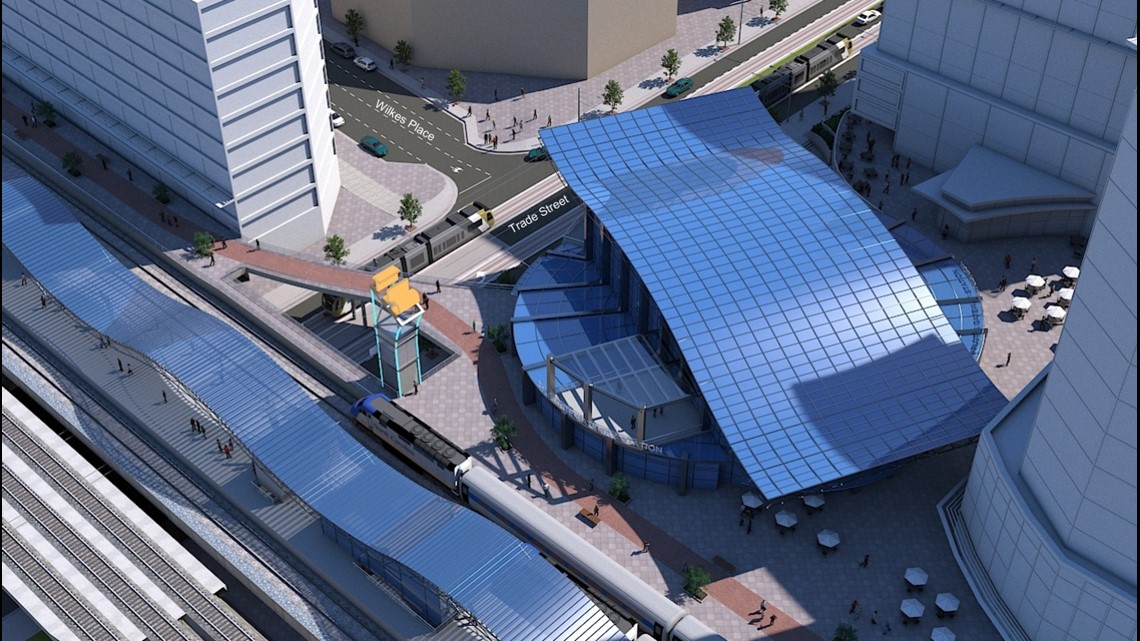 Like the existing Amtrak passenger rail service, trains will use rails operated by Norfolk Southern Railway to reach the station.
With services provided by Amtrak, NC By Train is a state-run service providing multiple trains throughout the day on its Piedmont service, which connects Raleigh and Charlotte with stops in Cary, Durham, Burlington, Greensboro, High Point, Salisbury and Kannapolis. The daily Crescent train provides service to Atlanta and New Orleans as well as Washington and New York, which is also served by Amtrak's Carolinian.
NC By Train has operated since 1990.
In 2018, NC By Train launched a fourth daily round trip between Raleigh and Charlotte. In September 2022, the service saw more monthly passengers than any other month in its 32-year history. The Carolinian and Piedmont trains handled 48,488 passengers, which marked an increase of 32% over the average pre-pandemic monthly ridership levels from 2014 to 2019, according to the state. Overall this year, there was a 65.3% increase in ridership compared to 2021, which itself saw a 118.7% increase.
NCDOT is also planning to expand its passenger rail service along the S-Line, a section of track between Raleigh and Richmond, Virginia. The Southeast Corridor Commission, a group consisting of departments of transportation from Florida, Georgia, North Carolina, South Carolina, Tennessee, Virginia and Washington, D.C., hopes the tracks could one day become part of a high-speed rail link across the Southeast.