CHARLOTTE, N.C. —
The Peak of Hurricane Season:
Sept. 10 is the exact peak date of the Atlantic hurricane season. Where 40% of all tropical cyclones happen during the month of September alone.
Since 1842, September has recorded 316 Tropical Storms and 541 hurricanes in the Northern Atlantic. 25 of those reached Category 5 strength.
This is more than any other month! There have only been 37 category 5 storms in recorded history. That means that about 68% of the strongest hurricanes occur in September!
2019's Hurricane Dorian, 1988's Hurricane Gilbert and the Labor Day storm of 1935 produced the strongest September wind speeds, all gusting up to 185 mph.
September is by far the peak month but truly the full peak for tropical development is mid-August to mid-October.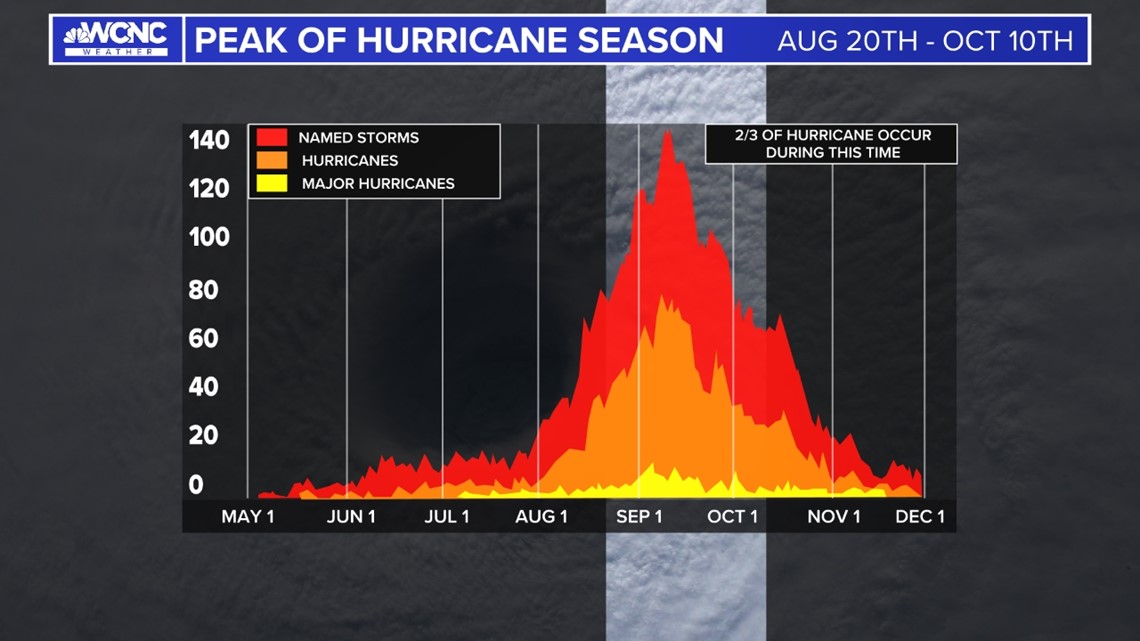 Why it is So Active:
It is this time of year that ocean waters are reaching their warmest temps well into the 80s, especially for the Gulf of Mexico and the Caribbean. But tropical development is possible across 4,000 miles of ocean from the US to the Cape Verde Islands.

This time of year there are also a lot more waves pulsing off of Africa and disturbances bubbling in the Caribbean, which are the seeds that grow into tropical storms and hurricanes.
And lastly, plumes of Saharan dust are not as prevalent as earlier in the year. This dust is dry air that weakens and kills tropical development.
That means more activity for the Carolinas. Where almost a third of the Carolinas tropical storms and hurricanes happen during the 9th month of the year.
Notable September Carolina Hurricanes:
Hurricane Hugo (1989):
Hugo is the strongest hurricane to ever make landfall in the Carolinas. On Sept. 22, 1989 Peak winds near Charleston, SC were estimated to be 135-140 mph. That's Category 4.
Hugo caused a 20-foot tide along the coast
and was made famous in the Carolinas due to how fast it was moving! Spreading hurricane force winds all the way up into the Charlotte area.
Hurricane Gracie (1959):
Gracie made landfall in South Carolina on Sept. 29, 1959, is the only other category 4 hurricane to make landfall in Carolinas during September. There have only been three Category 4 storms to make landfall in the Carolinas. The third was Hazel in 1954 but this storm happened in October.
Gracie made landfall as a category 4 hurricane with maximum sustained winds near 130 mph. It produced a 6-8 foot storm surge on top of up to 7 inches during a 6-hour period. Unfortunately, 10 deaths occurred in South Carolina and Georgia from the storm.
Hurricane Fran (1996):
Fran made landfall near the tip of Cape Fear on Sept. 5, 1996, with maximum sustained winds near 115 mph on the evening of Sept. 5. Fran was responsible for 26 deaths and was at the time the most expensive natural disaster ever in North Carolina's history
Hurricane Floyd (1999):
Hurricane Floyd made landfall on September 16, 1999, with a 10-15 foot storm surge (peak was around 18 feet) along the Carolina Coast and winds gusting over 110 mph as a Category 2 storm. A lot of eastern North Carolina got over 20 inches of rain as Floyd moved north.
Hurricane Florence (2018):
Hurricane Florence took the title from Floyd for the most rain dumped in North Carolina from a Tropical System. Florence peaked as a category 4 hurricane but made landfall as a category 1 storm in Wilmington, NC. Florence was responsible for record flooding all the way up to the Charlotte area.
It also is the costliest hurricane in the history of the Carolinas.