CHARLOTTE, N.C. — With COVID-19 spreading, Charlotte-area leaders were desperate for ways to limit the risk of the virus. Armed with federal dollars to help, area school districts and the City of Charlotte spent a combined $7 million on air purification technology created by a local company.
But some experts, citing a lack of widespread research, believe that technology needs more study.
Research commissioned by Global Plasma Solutions (GPS) shows the company's needlepoint bipolar ionization (NPBI) products are effective in reducing SARS-CoV-2, the virus that can lead to COVID-19. But some air quality experts told WCNC Charlotte that's not enough to convince them.
"The net benefit is unclear, let's put it that way," said Glenn Morrison, a professor of environmental sciences and engineering at the University of North Carolina at Chapel Hill.
Morrison said he's worried about the unknown health impacts of changing a room's chemistry.
"I really don't like the idea of putting too much ions in the buildings," he said. "There's not enough information out there about what is the impact of operating these devices on air quality sort of in total and also on lung function and things like that."
He and others say there are proven filtration options already out there, like HEPA filters and MERV 13 air filters.
"Start with thinking about traditional technologies," Morrison said. "New technologies are not proven."
Government agencies are among a growing group that has tried the alternative technology.
A spokesperson for the City of Charlotte said the technology, intended for improved air quality including protection against the spread of the virus, is inside every city-operated building. The city invested $2.9 million, the Charlotte Regional Visitors Authority invested $1 million, and Charlotte Douglas International Airport spent another $699,000 on GPS products. Those costs did not include an extended warranty and maintenance agreement, according to the spokesperson.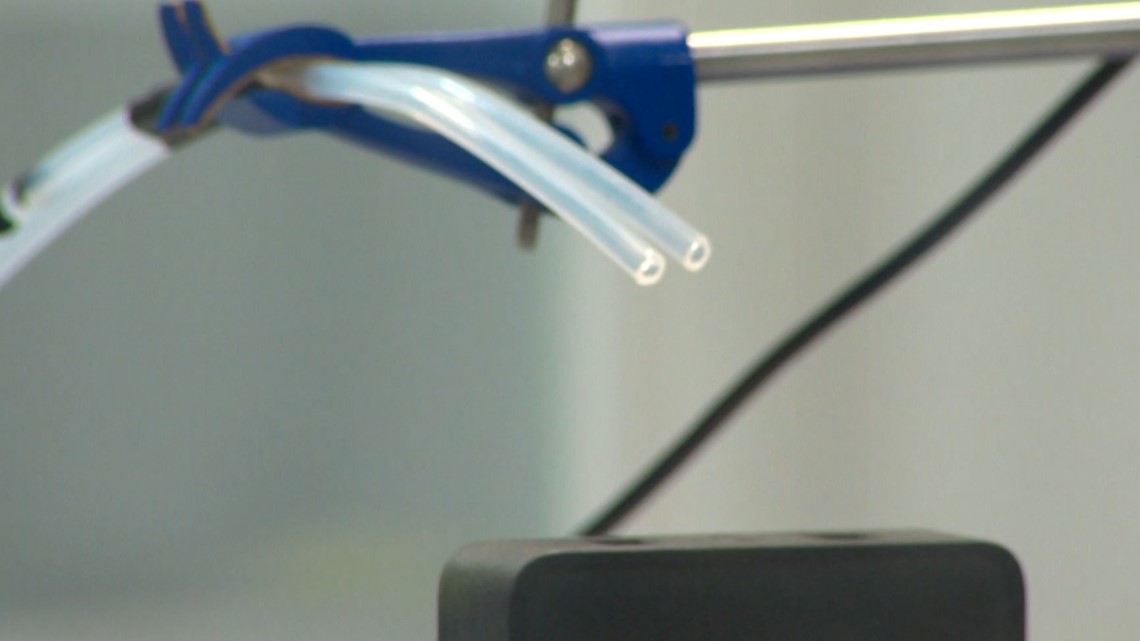 The Charlotte-Mecklenburg Schools Board of Education unanimously approved installing the technology in April. CMS reports spending $1.7 million for the technology, which was already installed in classrooms at 37 schools without outside airflow. A CMS spokesperson said installation is underway at one more site. Pending board approval, CMS plans on installing NPBI in "larger, non-classroom areas," like gyms, cafeterias, and auditoriums in those same 38 schools.
Kannapolis City Schools reports all nine of its campuses have the technology now, at a cost of $585,000. Cabarrus County Schools, meanwhile, reports spending roughly $207,500 on NPBI at eight schools. Two of the schools only received partial installations.
GPS, located in a business park on Yorkmont Road, touts its NPBI technology as another level of pandemic protection. The company says the devices, installed in existing HVAC systems, release low-energy ions into the air that attract particles, which makes them larger and easier to filter out. According to GPS, the technology deactivates pathogens at the same time.
Tests by a third-party lab hired by the company concluded the technology reduced SARS-CoV-2 by 98% over the course of an hour inside a sealed chamber, but a disclaimer on GPS' website notes "The use of this technology is not intended to take the place of reasonable precautions to prevent the transmission of disease."
Government agencies aren't the only ones to buy the technology. Businesses have invested too. The company lists Novant Health as a client and previously celebrated NPBI's success at a Charlotte brewery and CRVA in on-camera interviews with WCNC Charlotte before debate in the scientific community began.
GPS recently declined to answer questions on-camera as experts like Bud Offermann continue to speak out about this kind of technology. GPS is suing Offermann's San Francisco company for defamation after the engineer warned last year "one should not expect the devices to have a significant effect on airborne concentrations."
"I stand by what I wrote," Offermann told WCNC Charlotte. "My message is pretty clear: don't use these devices. A lot of them don't seem to do much. I featured one device that had the most data on it, but just all of these additive devices was my message. You're still going to have to wear a mask. You're still going to have to social distance. No amount of air cleaning or ventilation can interrupt that transmission path of me talking to you a couple feet from your face."
Delphine Farmer, an associate chemistry professor at Colorado State University, is a co-author of a peer-reviewed study GPS calls "faulty and inconsistent."
"As far as we know, these devices have been shown in real-world environments to do very little," Farmer previously said.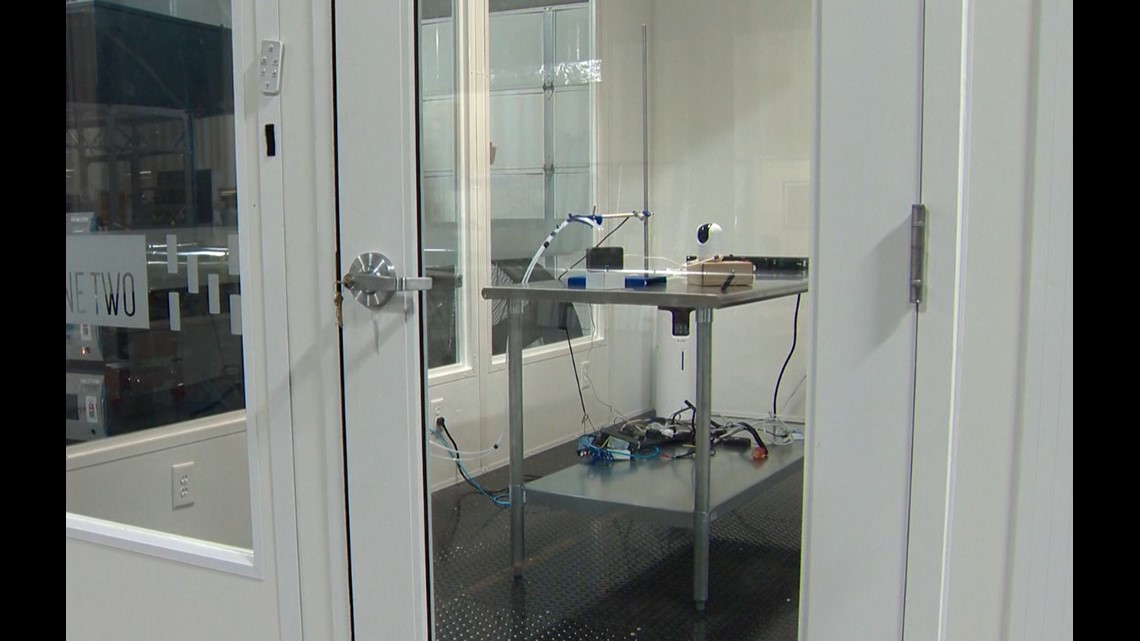 Farmer said ongoing research awaiting publication continues to validate the need for more research.
"Everything new that we've found has really just confirmed our initial results," Farmer told WCNC Charlotte.
Dr. Lyle Burgoon shared his critique of Farmer's research.
"It's demonstrably false and it's extremely misleading," Burgoon told WCNC Charlotte. "We can't really trust this paper, but it's informing (the authors') opinions."
The toxicologist and former U.S. Army and Environmental Protection Agency employee from North Carolina is an expert on safety hired by GPS. He also works with Michigan State University.
"Based on my research, in my expert opinion, I have not seen any evidence that there are safety issues or concerns," Burgoon said of the technology.
A parent himself, he said schools are already full of volatile organic compounds and these devices don't raise any red flags when it comes to safety.
"I would have no concerns with this technology being installed in (my kids') schools," he told WCNC Charlotte. "I would actually welcome it."
Even so, he agrees, there's no harm in additional research.
GPS says it's committed to research.
"Few, if any, air cleaning companies have invested more in R&D and testing (over $4MM in the last year alone) to ensure the safety and efficacy of its technology," the company said.
"GPS has conducted substantial testing in very strenuous and tightly monitored laboratory conditions, and this testing has shown that NPBI technology is safe and effective," a spokesperson said.
GPS also issued this statement to WCNC Charlotte Friday afternoon:
"Groundbreaking technology from GPS is helping communities in Charlotte and across the country safely and effectively deliver cleaner indoor air in schools, offices and other sensitive locations. Over a decade of rigorous scientific testing and real-world results show that GPS technology is safe and effective and brings an added layer of protection to multi-layered, building-wide air filtration systems.
Concerns about the effectiveness and safety of our unique approach to ionization are unfounded and based on the inconclusive findings of a single, deeply flawed report that is riddled with significant scientific errors. These assertions are inconsistent with the data and information from extensive research and testing on GPS products and positive customer results from 250,000 installations around the world."
WCNC Charlotte is always asking "where's the money?" If you need help, reach out to the Defenders team by emailing money@wcnc.com.