CHARLOTTE, N.C. — Five of six vehicles that were stolen in a 1-mile radius over the last week in University City were Hyundais, police reports show, as the viral TikTok "Kia Challenge" has resulted in a spike of vehicles nationwide.
Police reports obtained by WCNC Charlotte show six vehicles were stolen in the area of Meadow Vista Road in northeast Charlotte in the past week, in the Heather Ridge apartment complex. Of those thefts, five were Hyundais.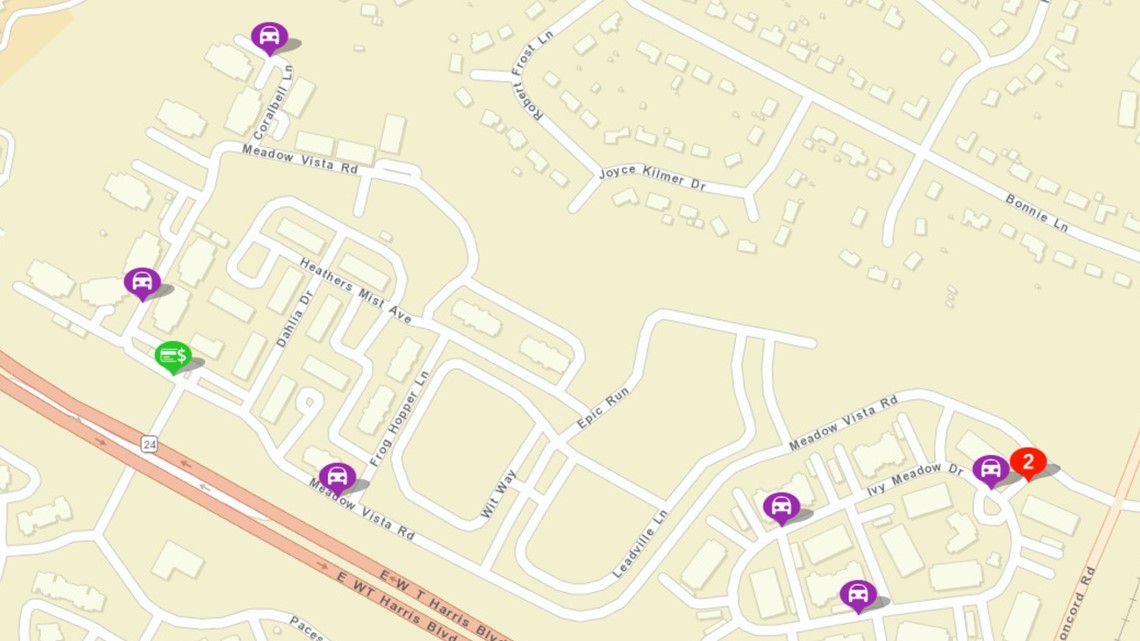 "Based on a social media trend, individuals have found a way to circumvent the ignition to Kias and Hyundais after 2008 models and later, resulting in them being able to steal the vehicle without needing a key," William Wallace, a CMPD detective who serves in the central division, said.
Kia America said it was aware of the rise in vehicle thefts, telling WCNC Charlotte all current 2022 model-year vehicles have an immobilizer as standard. Hyundai Motor America also told WCNC Charlotte that engine immobilizers are now standard on all new vehicles.
"Criminals are always adapting, and we have to adapt with them," Wallace said. "We got to update with the trends, keep in touch with what's on social media, and that's what we're doing with this is try to get out in front of it and hopefully make people aware of the situation before it gets bigger."
The suspects left the car with two flat tires and an ignition switch that was torn apart. CMPD said dozens more car thefts happened in the same week, with the vast majority being Hyundais and Kias.
In a statement released to WCNC Charlotte, CMPD said: "The continued spike in auto thefts of Kia & Hyundai vehicles is alarming and is a major driver of the increase in overall auto thefts in Charlotte. The majority of these thefts are committed by juveniles. CMPD detectives and patrol officers across all divisions work tirelessly to track down stolen vehicles and arrest those responsible, evident by our 56% recovery rate on stolen Kia/Hyundai vehicles. We need the public's help with prevention. If possible, obtain and install a steering wheel lock. Remember to lock your car doors and take your keys with you. Park in well-lit areas if possible and avoid parking for long periods of time in commercial lots including hotels/motels."
Police said steering wheel locks or clubs can be a good crime deterrent, but it's important that these tools are installed properly with the steering wheel fully turned and locked.
"When a suspect is looking inside they're going to see that and right away most of the time they're going to walk right past your vehicle," CMPD Detective Jonathan Campbell said.
The auto industry announced it is also weighing the risk factors with the two car manufacturers.
Mark Friedlander, a spokesperson for Insurance Information Institute, sent a statement to WCNC that said: "The trend of thefts of certain Kia and Hyundai models is very concerning to the insurance industry. Auto insurers are assessing the risk factors associated with these vehicles. Some insurers may begin to limit writing policies for new coverage of these vehicles in certain markets across the U.S. but we are not aware of specific actions being taken that would impact consumers in the Carolinas."
All of WCNC Charlotte's podcasts are free and available for both streaming and download. You can listen now on Android, iPhone, Amazon, and other internet-connected devices. Join us from North Carolina, South Carolina, or on the go anywhere.