RALEIGH, N.C. — Attorneys worried it would be a mess, and they were right.
The technology was supposed to launch in Mecklenburg County and surrounding counties in May, but the launch in Raleigh has been so troublesome, it's now been delayed here. The delay could also end up costing taxpayers additional money.
Attorneys are not happy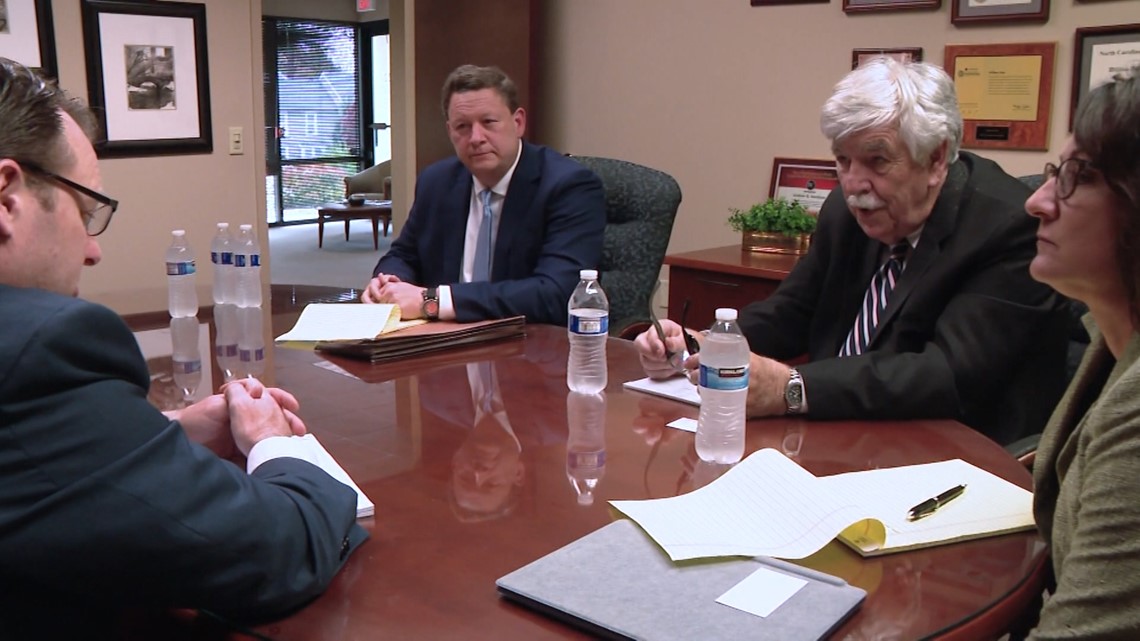 Attorneys in the impacted communities are so upset they gathered to talk to WCNC Charlotte reporter Michelle Boudin during a visit to Raleigh. Those gathered said the new system imposes added dangers: such as law enforcement officers no longer having access to information they need before making an arrest, or citizens not being able to get timely domestic violence restraining orders or child custody orders.
Parrish Daughtry doesn't mince words when talking about the new way of doing things in some of North Carolina's courthouses.
"This will do nothing but delay justice," the veteran attorney said.
"There are pitfalls everywhere," Trey Fitzhugh, another attorney, said. "I don't mean to sound alarmist but this is bad."
Mike Reece, also a criminal defense attorney said, "It's been a train wreck from the get-go."
"The system frequently goes down, frequently stalls," Daughtry said. "We started calling it the wheel of death because you just watch the wheel spin."
Another longtime attorney, Jack O'Hale, couldn't believe the financial cost.
"We spent $100 million to engineer a paperless system that uses more paper and is totally inefficient and doesn't work and we have pissed away $100 million," he said."
Fitzhugh tried to stress their new reality.
"This is going to sound overly dramatic but this is not a bump in the road," Fitzhugh said. "This is not a resistance to change – not an adjustment period. It's a disaster."
In rural Harnett County where Daughtry works, "Everything is grinding to a halt," Daughtry said. "They shut down some of our criminal courts at the request of the clerk's office."
Reece feared it could get worse before it gets better.
"If they continue to roll this out, I think eventually the courts will grind to a halt or you'll have something go wrong," Reece said. "Someone will get injured or killed for lack of knowledge and, at that point, people will say it's something we need to address."
Civil liberties violated
Lindsey Granados is a criminal defense attorney in Wake County and said people's liberties are being violated. Granados said one client sat in jail for an extra five days.
"People have been held in custody longer than they needed to be," Granados said.
Fitzhugh said that's a big deal.
"This is still the U.S.," Fitzhugh said. "You're not supposed to be held in jail longer than you're supposed to be."
"There should, and will likely be, something of that nature in the future as we're talking about people's constitutional rights and liberties infringed based off of computer glitches," Granados said.
The leak of sensitive information
Another glitch left sensitive information wide open for anyone to see.
"You may be able to see an incredible amount of personal information about someone else," Reece pointed out.
In some stances, that information included social security numbers, date of birth, and other personal information that should have otherwise been redacted from view, according to Granados.
Even someone with no interaction with the courts could have a simple speeding ticket turn into a nightmare because of the glitches.
"Driver's licenses are being revoked because things aren't being done promptly," Rece explained. "People's time is being wasted. The general public is being impacted at every stage of this process."
"To date, AOC and Tyler have resolved approximately 350 application defects. We continue to work with Tyler and pilot counties to resolve software defects and to refine workflow to improve operations."
Overcoming outdated infrastructure
Attorneys who spoke with WCNC Charlotte said, even if all the current glitches get resolved, the new technology is slower than the previous one. Tyler Technology is a cloud-based system and requires more reliable Wi-Fi than some courthouses have. Attorneys said this is especially true in smaller counties -- and upgrading the wireless Internet would mean spending more taxpayer money.
"There have been seven additional servers purchased to store the data and that's just after the four counties that went live," Granados said. "The software was $100 million. When you take into [account] upgrades like courthouse Wi-Fi, scanners for each courtroom, clerks need two computer systems ... I don't know the cost in the four counties, let alone statewide. Cost is exorbitant, I'm sure."
"Our prosecutors hate the system," O'Hale added. They will tell you they have now become data entry clerks. They're not practicing law, not trying cases; they're entering data to continue cases. It's a total waste of time. It's just a total fiasco."