'I've spent 10 years fighting fiercely for her' | Sophia Weaver, now in hospice, is experiencing a whole new world of firsts
Natalie and Mark Weaver were forced with making one of the hardest decisions of their lives. After 30 surgeries, the Weavers decided to transition Sophia away from medical care to give her a chance to live life.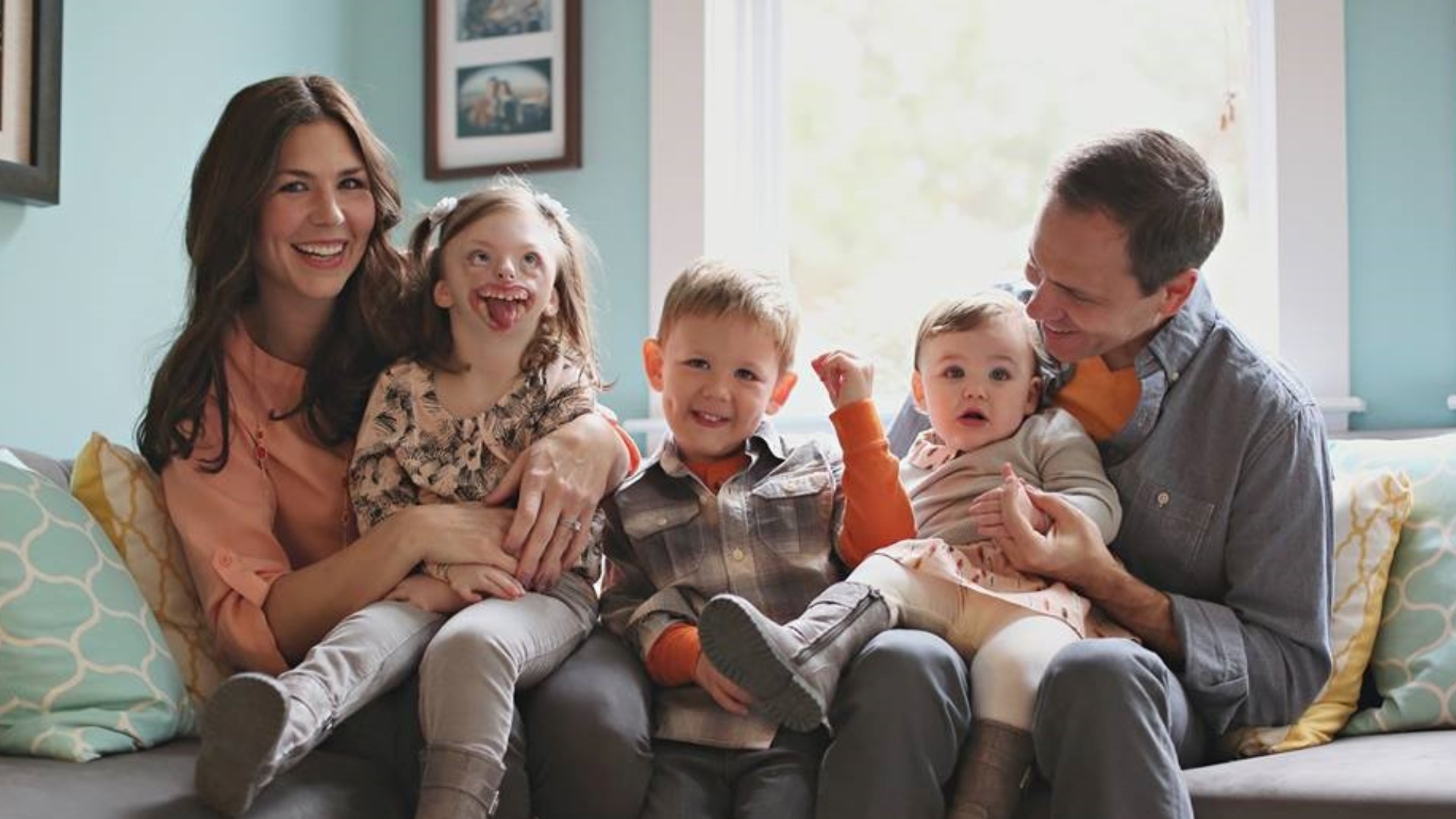 Editor's note: Natalie Weaver, Sophia Weaver's mom, wrote on Facebook that her Sweet Sophia passed away Thursday evening. The Weavers said once they "pull themselves from this heart-shattering pain," they will continue to help others in her memory.
CORNELIUS, N.C. -- Natalie Weaver broke the news to her social media followers back in February: Sophia Weaver would officially 'leave behind' the medical world and enter hospice.
"This doesn't mean she is dying but this does mean we are in the beginning stages of changing and transitioning her care and none of us know how long she will be here. It could be a year or more or less, we just don't know," Natalie wrote.
On April 26, Sophia underwent her 30th and final surgery. Her family is now focused on making sure Sophia lives life to the fullest.
No more hospitals, no more incisions, no more scars.

Thanks to the generosity of their community, the Weavers are able to take Sophia on a handful of adventures around Charlotte. Adventures Sophia would never have been able to take if she was still bouncing in and out of hospitals.
Fighting for Sophia
:
"When I saw that post, my heart dropped."
Natalie and Mark Weaver have been fierce advocates for their 10-year-old daughter Sophia Weaver.
Sophia was born with deformities on her face, hands and feet. Natalie was 34 weeks pregnant when doctors told her and husband Mark what to expect.
"My world just felt like it crashed down," Natalie said. "We tried to take her out (in public) and were met with stares and cruelty that destroyed me."
Natalie said the family became very private for a while, then, there was another blow. Sophia was diagnosed with Rett syndrome, an extremely rare condition.
"When she was five, we found out she has Rett syndrome. It was the reason she had lost any abilities that she had gained. It makes you unable to walk, talk and do things for yourself," said Natalie.
Sophia has endured 30 surgeries and gets her food through a feeding tube. She has type one diabetes, daily seizures and choking spells.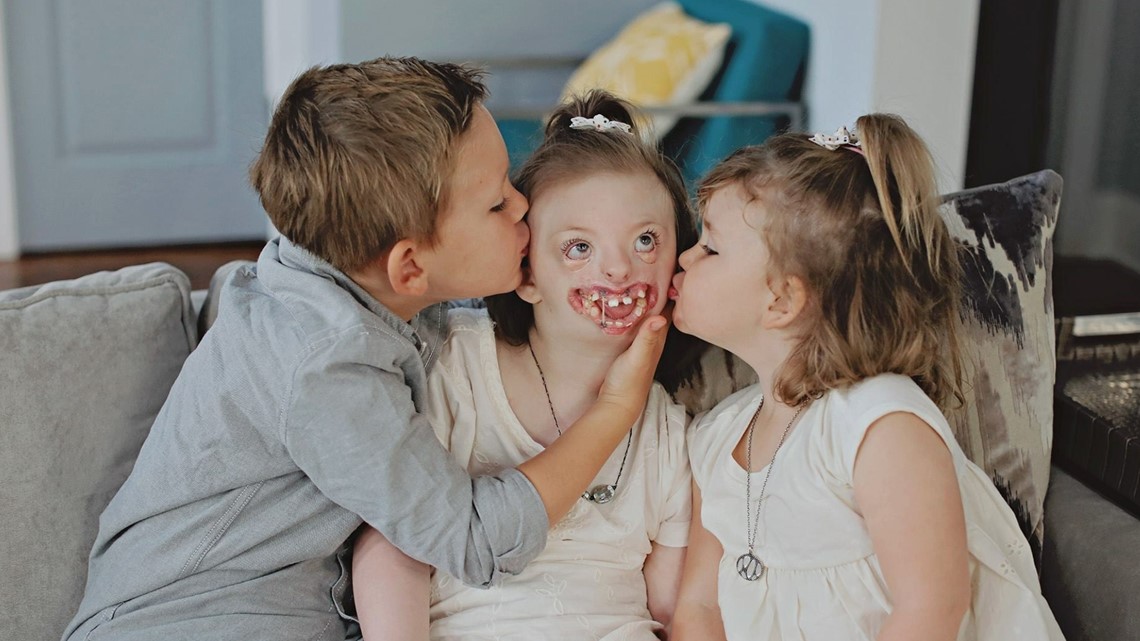 "There's no one else in the world like her with the combination of conditions, and there's no one else in the world who looks like her, so we are learning as we go," Natalie explained.
Sophia's condition turned Natalie into a public advocate for healthcare and people with special needs. There are pictures of Sophia everywhere. It's easy for someone to access her photos.
And someone did take her photos. Internet trolls.
"When I saw that posted my heart dropped, it was incredibly painful," said Natalie.
A stranger took a picture of Sophia from an online article and used it on Twitter to promote abortion.
"Someone had been using my child's image to promote eugenics. She was the poster child of who should be aborted and doesn't deserve healthcare," said Natalie.
Natalie said she spent weeks fighting with Twitter to get Sophia's picture removed and the account taken down. The social media giant complied.
Still, to this day, Natalie is fighting for Sophia and other children with deformities on her social media platforms. This time she's calling on Instagram to take a stance against hate speech, threats and encouraging violence towards children with disabilities and facial deformities.
Natalie said in the six months she's used Instagram, she has received three times as much hate than on Twitter and Facebook combined.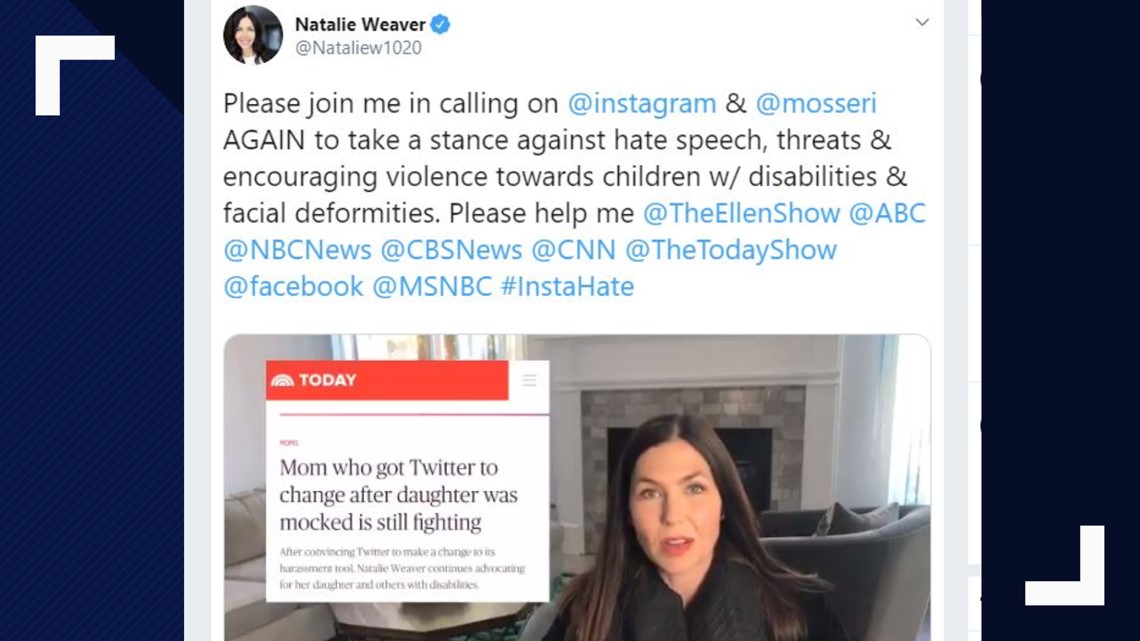 "I'm not just thinking about myself. I am strong enough to handle this type of pain because I am used to it," Natalie said. "I am thinking about all of the other people out there who might not be able to handle this type of pain."
Natalie received a response from Instagram when she reported a comment that read:
Instagram said in part, "while we reviewed your account you reported for harassment or bullying it does not violate our Community Guidelines."
As of May 8, Natalie is currently talking with the head of Instagram hoping to get some kind of change to their policies.
The decision
:
"I've spent 10 years fiercely fighting for her."
Earlier this year, Natalie and Mark Weaver were forced with making one of the hardest decisions of their lives. The Weavers have decided to transition Sophia away from medical care to give her a chance to live life.
"We've done the same thing for the last decade," Natalie said about her decision to put her 10-year-old daughter in hospice.
Sophia recently had surgery a little over two months ago and Sophia's response to it was bad.
"She was unresponsive for four days and her organs, one-by-one, were beginning to react to that," Natalie said.
For the past 10 years, Sophia has always been kept out of public spaces because of her weak immune system and all the medical care she received kept her in and out of the hospitals. Natalie and Mark decided that was not the life they wanted for their little girl.
"It's probably unthinkable for a lot of people to even ponder the thought of the notion of you know you outliving your child," Mark said.
But the Weavers knew they had to make a decision that was best for Sophia, not just them.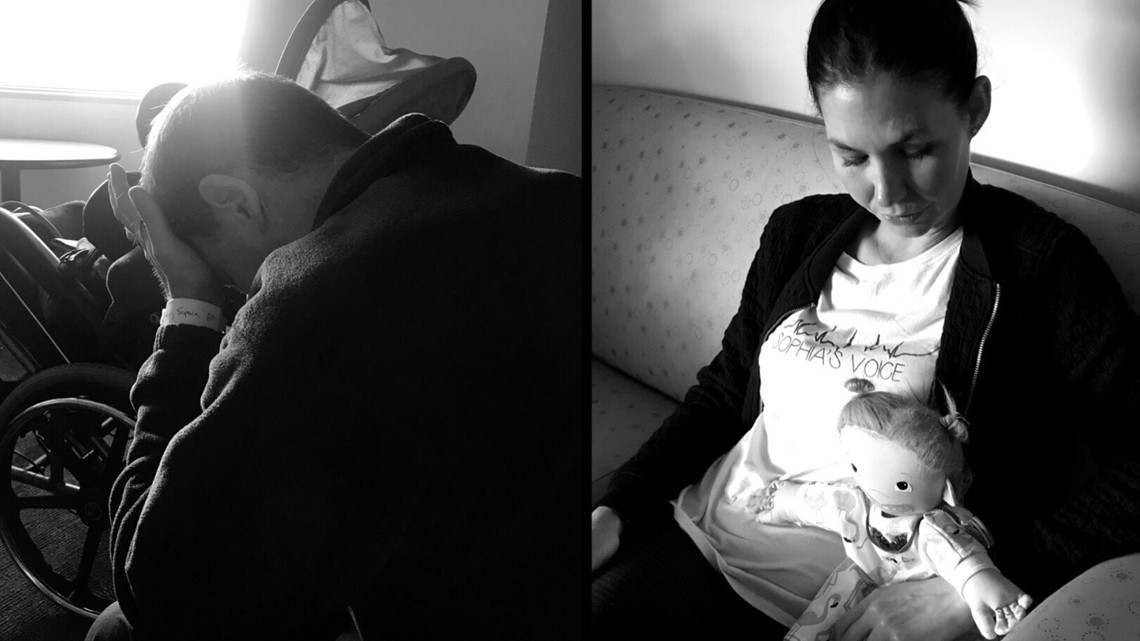 "I've spent 10 years fighting fiercely for her with my advocacy and to go from that to realizing that I have to put aside my wants," Natalie said. "And I have to do what's best for my child. Which means listening to her body and taking her away from all of the painful things."
The Weavers called hospice and began the transition from the medical world to the 'real world.'
"We called hospice and for their support to help us with this very scary transition. And so we are currently taking her off of her medications and we are trying to have as many experiences and adventures with her as possible.," Natalie said
Mark said he can understand why some people would be confused about the decision to end most medical care for Sophia.
"This transition for us is really about embracing the quality of life and not the quantity of days we have left. And so that's where we're trying to say let's get some adventures under our belt. Let's show her some things we haven't seen before," Mark said.
Sophia still has an at-home nurse and is still receiving the full-time care she needs.
"She still needs round the clock care to be alive and to get dressed to play," Natalie said.
It's just Sophia will no longer have to endure excruciating surgeries.
Sophia's Adventures
:
"We're making up for lost times."
Now that Sophia is no longer in and out of hospitals and on medications that make her weak and tired, the Weavers are now able to go on adventures with Sophia. They're calling it: Sweet Sophia's Adventures.
So far, Sophia has gone on a handful of adventures, thanks to the kindness and support from the Charlotte community.
"We are very lucky because we have an amazing community that surrounds us who are allowing us to have those amazing adventures. We call it sweet Sophia's adventures," Natalie said.
It may seem like a pretty mundane chore for any other family but for the Weavers a haircut at a salon was never a possibility for Sophia. That is until the salon shut down for the day just so Sophia could come in and get her haircut.
Mark said the salon had decorated the space with balloons for Sophia's arrival.
But it wasn't all smooth sailing at the salon.
"She had about 15-minute choking spell, unfortunately, so we had to get her into a space where she was comfortable again," Mark said.
After about 45 minutes, and the choking spell had passed, the Weavers held onto Sophia while the hairdresser washed and styled Sophia's hair.
"She was just smiling in a very big way and she was giggling. And it was a really proud moment as a parent to see that," Mark said.
A local movie theater also shut down for the day so Sophia could watch "How To Train Your Dragon" on the big screen.
"That was another amazing moment to be able to just sit there and I got to sit behind them and watch him hold her as she watched it and switch off," Natalie said.
Photos: Sweet Sophia's Adventures
Among other adventures, Sophia also went roller-skating. Our NBC Charlotte crew was there to capture every blissful moment.
"I was pushing her in her wheelchair. She loves music and she just was so happy the entire time. And for her body to hang in there for 45 minutes, full attention, no seizures, no tremors, smiling, the family surrounding us and just having so much fun. I think my face was sore from smiling," Mark said.
A special Sophia's Adventure moment happened when Sophia and Natalie went to the Mint Museum in uptown.
The museum opened early so the two could walk around the museum and admire the art installations.
Following the trip to the museum, Natalie posted a photo of her with Sophia standing in front of a giant mural of former president Barack Obama.
"I was Overcome w/ emotion as I stood in front of the @barackobama painting w/ Sophia. I explained that he is the President who fought for her to have healthcare despite being born w/ many #PreExistingConditions & why she's alive today which is why I fought so hard for 2 yrs to protect preexisting condition protections."
About a week later, Natalie received a comment from President Obama himself. He mentioned how he wasn't the only one fighting for ACA (Affordable Care Act) but instead, it was millions of people like Natalie fighting.
"Thanks for everything you're doing for Sophia and so many others," President Obama wrote.
Mark and Natalie said just having the opportunity to watch Sophia experience things for the first time is amazing.
"And I'll go back to the decision it's one of the most heart-wrenching decisions that I've ever had to make," Natalie said. "Because as a mom, you want to fix things and so I'm fixing this and fixing that and the doctor will fix this. You keep doing it until we got to the point that we realized there is no fixing."
Mark and Natalie said the decision to ultimately step away from medical care has also allowed their other kids to play with Sophia in a way they've never been able to before.
"A lot of times we've had to do things separately as a family and it just means a lot to us, "Natalie said. "We want to make sure that they have memories of their sister that aren't just her in her hospital bed, upstairs in her room, being in pain."
The Weavers said they are making up for lost time.
"So, at the end of the day we're trying to say let's try to change that to become more," Natalie said. "The time that we spend to together. Make it meaningful, make it quality and let's not take today for granted and with our other kids as well."
What's next for the Weavers?
:
"That's what I do. I live to help others."
Natalie and Mark are still planning fun adventures for Sophia and her siblings. The Weavers have asked the community for suggestions for the next Sophia Adventure.
"There are things around going out west, for example, taking her to the mountains to Colorado, Wyoming, Montana, and those areas," Mark said.
While some of the suggestions are not always do-able, the Weavers said they are still open to all suggestions.
"So many people have donated so that we can do a lot of these adventures very quickly and so we appreciate that so much. It's made a huge difference," Natalie said.
As we know, Natalie has been a huge advocate for her daughter and thus has created an organization called Sophia's Voice.
"I named it in honor of Sophia to remind others that even though she can't speak she does have a very powerful voice, an impact," Natalie said.
The t-shirt Natalie created for Sophia's voice has a heartbeat, Sophia's heartbeat.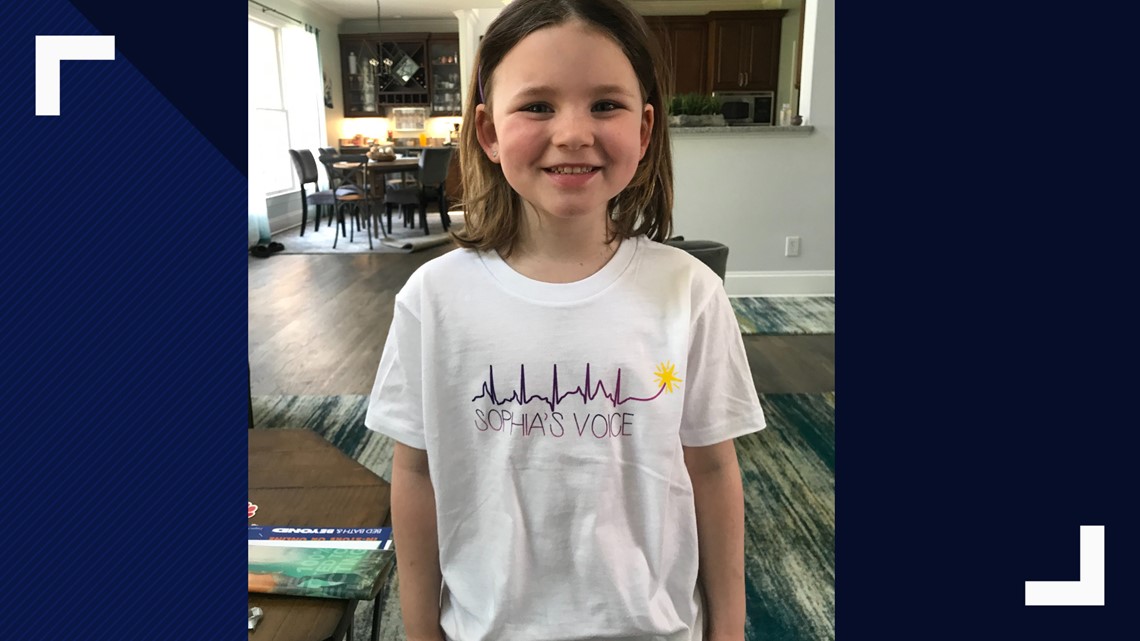 "She's changed so many lives throughout the world and this is her actual heartbeat, Natalie said. "I thought how amazing would it be to see people from around the world wearing Sophia's heartbeat."
Natalie said through a t-shirt fundraiser, over 350 people are now wearing Sophia's heartbeat. And sharing their message of unconditional love, kindness, and acceptance.
"I'm working to normalize facial deformities and disabilities so that people are more accepting," Natalie said.
Sophia's Voice also helps support people within the disability community. The organization will pay for medical bills, medical debts medications, medical supplies, and pieces of equipment.
"That's what I do. I live to help others. I really found myself in helping others and Sophia helps me find myself. And she's just a really powerful girl and I want to continue the work to help others in honor of her," Natalie explained.
RELATED STORIES ON WCNC.COM