CATAWBA COUNTY, N.C. — WCNC Charlotte reported on Oct. 12 that lawyers representing the family of a man who drove off a "bridge to nowhere" in Catawba County are looking for who is responsible.
The original story continues below.
--------------------------------------------------------
A community is mourning the death of a father after he drove off a 'private road' in Catawba County. It's a roadway people who live in the area called dangerous and have complained about for years for it to be fixed.
A man was found dead in a Jeep that crashed on a collapsed bridge in Catawba County over the weekend, state troopers said.
The North Carolina State Highway Patrol responded to a report of a vehicle in a creek in the area of 24th Street Place Northeast in Hickory around 10 a.m. on Saturday, Oct. 1. When troopers got to the area, they found a 2020 Jeep Gladiator upside down and partially submerged in the water where the road was washed out.
Troopers said barricades that were put up to warn drivers of the collapsed bridge were apparently removed, leading to the crash.
The driver of the Jeep, identified as Philip John Paxson, was found dead inside the vehicle. Troopers believe Paxson crashed around 11 p.m. Friday.
His family called him Phil and described him as outgoing and a kind person who would give anyone the shirt off his back.
"Everybody loved him, he was the life of the party," his wife Alicia Paxson said. "Always making jokes on people all the time and making people comfortable."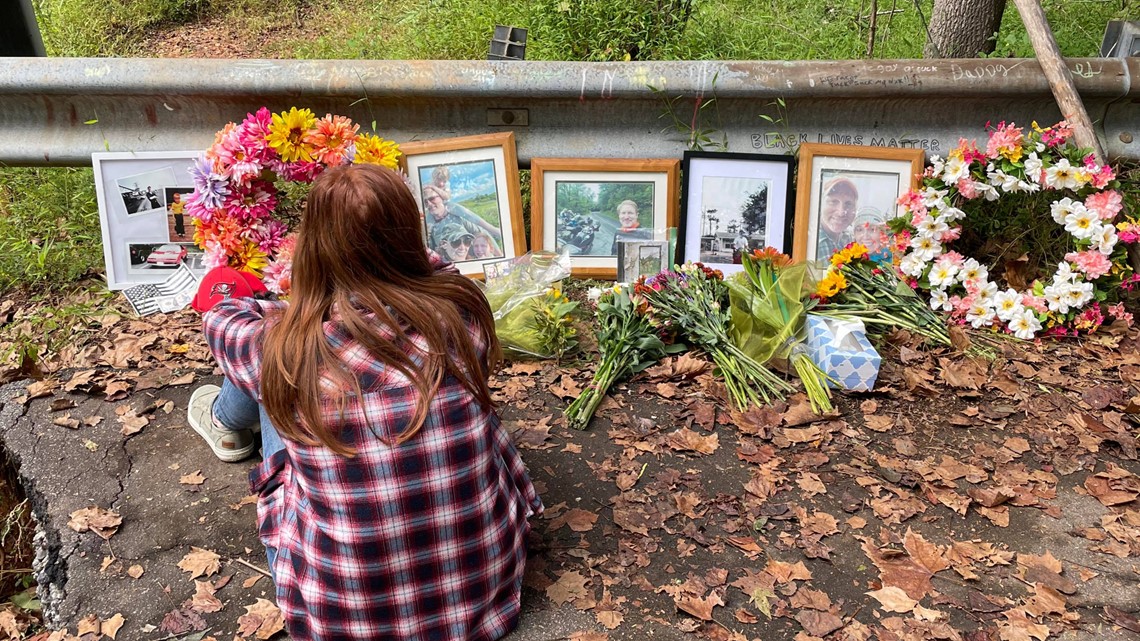 "He didn't fall off a bridge. He didn't drive off a bridge," said a loved one at the site where a memorial has grown. "He drove to his death through that 20 ft ravine."
Phil was with his wife, daughters and friends celebrating their daughter's birthday party Friday night. His wife left ahead of him with the kids, while he stayed behind to help clean up but he never came home.
His friend Jon Hopson is the one who found him the next morning.
"I pulled right where we are at and I saw the back tires of his jeep sticking up out of the water," Hopson said. "It was the worst thing I have ever experienced in my life. I was the last person to talk to him, cooked his last meal and the one to find him."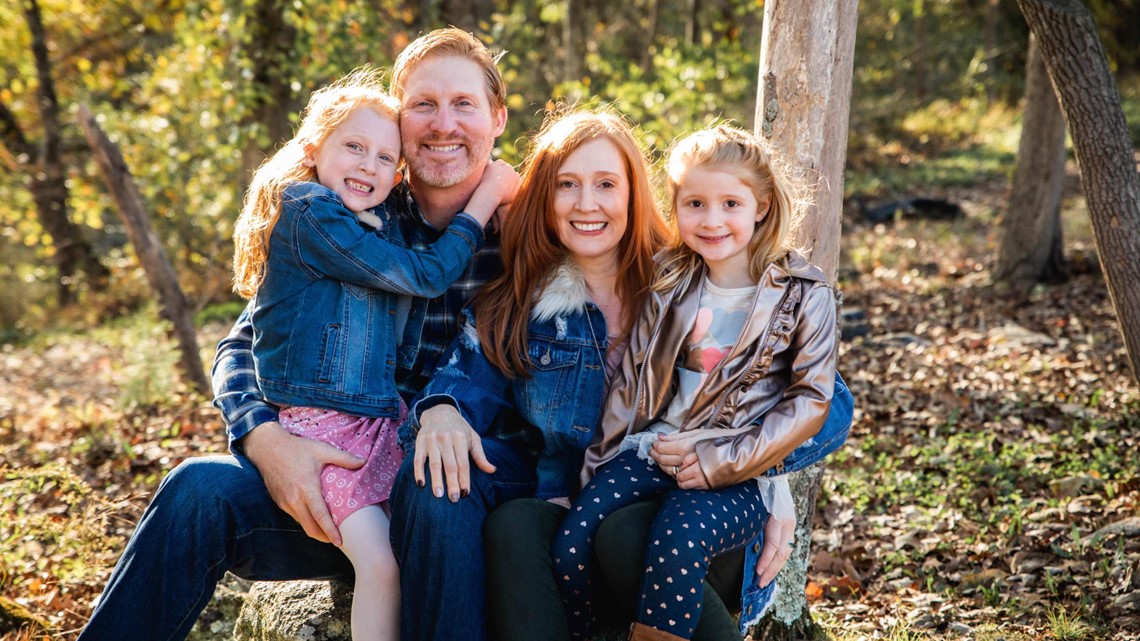 "He took a left and that left went to that bridge to nowhere, which is what they called it since 2013 when that bridge washed away and no one took responsibility to get that bridge fixed," Alicia's sister Kayla Bubar, said.
The road pops up on the GPS.
"He could have easily put it in the GPS and gone this way because all of the neighbors say the quickest way out of here is that way. And most people choose the quickest way." Bubar said. "My sister's friend drove up to that edge multiple times but thankfully it was daytime."
An unmaintained private roadway that turned deadly.
"There are no signs, no lights, and no barriers," said Bubar. "It was dark and it was raining and it could have happened to anyone."
A property deed linked it to Keener, Shook and Tarlton but that partnership dissolved in 1994.
WCNC Charlotte reporter Jesse Pierre visited a rental office called Shook and Tarlton in Hickory. The owner did not do an interview but said they only purchased a building three years ago but with no assets.
"We've been told time after time that it is not the state's and it is not NCDOT," Hopson said. "It's a private road and no one is responsible for the road."
A sign just a few blocks up 24th street place NE says, "state maintenance ends here".
Catawba County officials also told WCNC Charlotte "In North Carolina, counties do not maintain roads. In general, owners of private roads associated with subdivisions could be the subdivision developers, a homeowners association, or the property owners in the subdivision."
And again, no one is taking responsibility for the road that leads to nowhere.
"You can't have a pool that is not gated off but you can have a gaping hole in the middle of a community," Bubar said.
That answer is not good enough for Phil's family as they struggle to cope with the loss.
"Phil did not deserve to die like that and it is a horrible thing to go through. His children now have no father," said Bubar. "We are not going to let it go and we are going to find out who is responsible for it."
A memorial is growing at the site with photos of Phil and flowers in memory of him.
Some community members added barriers after the incident and are calling for the county or state to do something and take responsibility for this roadway before someone else gets hurt.
"[Owners] might go bankrupt, they might die, the company might not exist anymore," explained Andrews. "So you can't have the expectation of some kind of developer or entity being responsible for that road in perpetuity."
Residents could petition for NCDOT to take over maintenance of the road but it would need to meet certain criteria.
"It needs to be built to a certain standard, the pavement or the asphalt needs to be a certain thickness, the culverts need to be of a certain standard they need to be NCDOT quality culverts," said Andrews.
The NCDOT's subdivision manual breaks down the petition process and requirements for the addition of subdivision roads to the state-maintained system.
WCNC Charlotte reached out to North Carolina state Representative Jay Adams, whose district includes Catawba County, and has not heard back yet.
State senator Dean Proctor, whose district also includes part of Catawba County, spoke with WCNC Charlotte over the phone and maintained that a private road cannot simply be taken over by the city, county, or state. He adds there are strict laws in place about the process and the owner would have to petition for it to happen. The road would also need to meet certain criteria for the state to take ownership. Until then maintenance would fall under the responsibility of the owner or residents.
U.S. Rep. Patrick McHenry, whose federal congressional district includes parts of Catawba County, said he was saddened to hear about Paxson's death and offered condolences. McHenry's office told WCNC Charlotte the roadway was one they looked to get funding for back in 2013 during a FEMA disaster declaration, but there was no money made available to replace the bridge because it was on a private roadway.
His office made a public safety case to FEMA again in 2016 and that was denied, adding "The only remaining recourse was for the State of North Carolina to file a formal appeal with FEMA and if the appeal was denied file suit in federal court challenging FEMA's decision. The Congressman does not have the jurisdiction to compel the State of North Carolina to pursue such action nor can we speak to the Governor's Office position on the issue at that time."
Andrews said unfortunately it may be up to the residents to take up responsibility for the road if they want it fixed.
"You can say that that entity was responsible for the road, but if they're not doing it, and you're the ones that are on that road, then the owners of those properties need to take responsibility," explained Andrews. "In the meantime, all these homeowners could be setting aside small increments of money on a monthly basis. And they will be accruing enough money," said Andrews.
WCNC Charlotte reported on the dangers of the bridge in 2016, when neighbors said they were fed up about the situation. The bridge was reportedly washed out during a storm in July of 2013. Neighbors said it was an accident waiting to happen.
"It's horrible, it looks so dangerous," one person said.
At the time, Catawba County officials said, "we don't do roads and bridges, no county does."
No further information was provided by North Carolina State Highway Patrol.
All of WCNC Charlotte's podcasts are free and available for both streaming and download. You can listen now on Android, iPhone, Amazon, and other internet-connected devices. Join us from North Carolina, South Carolina, or on the go anywhere.