CHARLOTTE, N.C. — The flood threat continues into Friday after record-breaking rainfall caused historic flooding in Charlotte and across the Carolinas Thursday.
Waterways remain swollen as rainfall from across the region works its way downstream.
Officially Charlotte recorded 4.80" of rain Thursday at Charlotte Douglas International Airport. While that alone was enough to shattered the daily record, unofficial observations show rainfall totals of over 8 inches near Harrisburg and Uptown Charlotte.
Little Sugar Creek reaches historic flood stage
Little Sugar Creek near Midtown Park reached a record depth of 16.2 feet as all of that rainfall made its way into the region's waterways. That observation, recorded by instrumentation near Atrium Health's Carolina Medical Center, indicates the water level passed the 1997 record set during Hurricane Danny.
"Unless you were here in 1997, you have never seen the Little Sugar Creek flood like this near the Medical Center," WCNC Charlotte chief meteorologist Brad Panovich said. "The greenway is almost overflowing."
At 16 feet, the creek entered the "moderate" flood stage.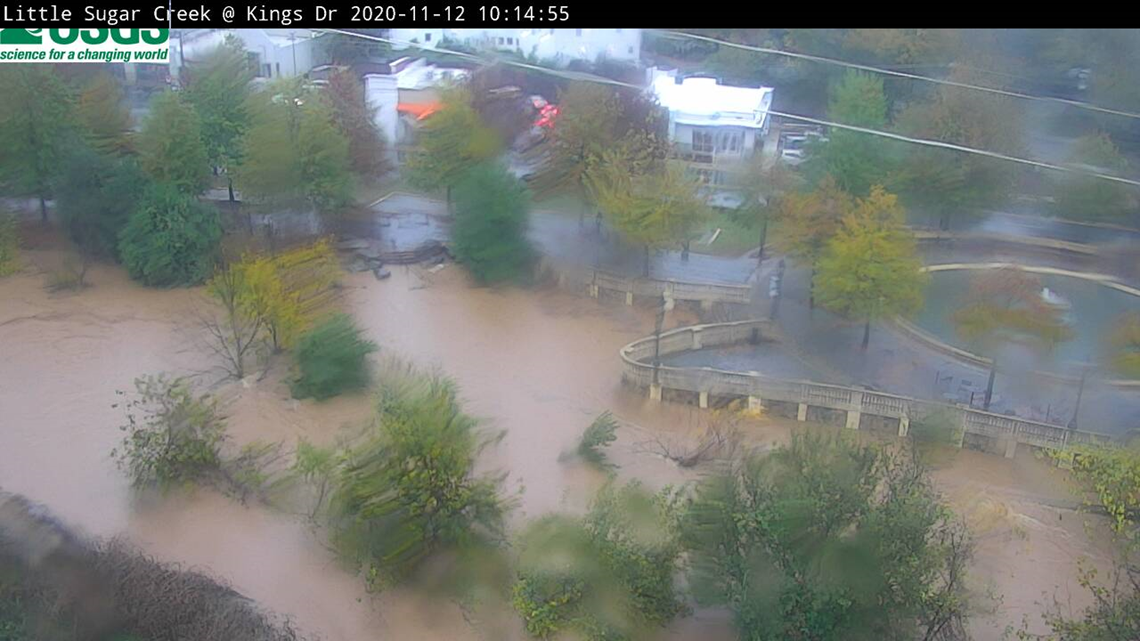 Flash Flood Warnings stretch nearly 300 miles across North Carolina as the heavy rains pummeled the region Thursday.
Charlotte school evacuation
Along Mallard Creek and David Taylor Drive, the Charlotte Fire Department evacuated 143 people from Corvian Community Elementary School because of floodwaters. No injuries were reported.
Drivers stranded in flood waters
As it typical does during heavy rains, McMullen Creek swelled over Addison Drive in the Sherwood Forest neighborhood. The creek level was near 9 feet.
A camera at that location Thursday morning showed firefighters assisting a driver stranded in floodwaters.

The threat of flooded roadways continued into the evening hours.
After dark, a woman was helped from her car near Arrowood Road after the vehicle became submerged in flood waters.
Motorists are reminded to not drive through floodwaters as drivers might not be able to tell how deep the water is or if the road is washed out underneath the puddles.
"Please stay off the roads until this system gets out of here," Panovich said. "We have so much flooding on area roadways."
Carolina flooding turns deadly
In Catawba County, officials declared a State of Emergency due to extensive flooding, power outages and road closures.