CHARLOTTE, N.C. — The Carolinas are very familiar hurricanes. Here's a look at some of the costliest and deadliest hurricanes to impact North Carolina including hurricanes such as Hugo, Hazel, and Florence.
This September marks 32 years since hurricane Hugo slammed into the Carolinas. The hurricane battered the coast before it tracked inland and caused significant damage in the Queen City. Hugo made landfall on September 22nd, 1989 near Charleston, and it moved into Charlotte as a category one hurricane with 90 mph winds.
Prior to Hugo, Hurricane Hazel hit North Carolina in 1954 as a major hurricane. Hazel is the only category 4 hurricane to make landfall in North Carolina. Hazel was the costliest storm of the 1954 hurricane season with 163 million dollars in damage for North Carolina alone and 19 people reportedly died according to National Hurricane Center.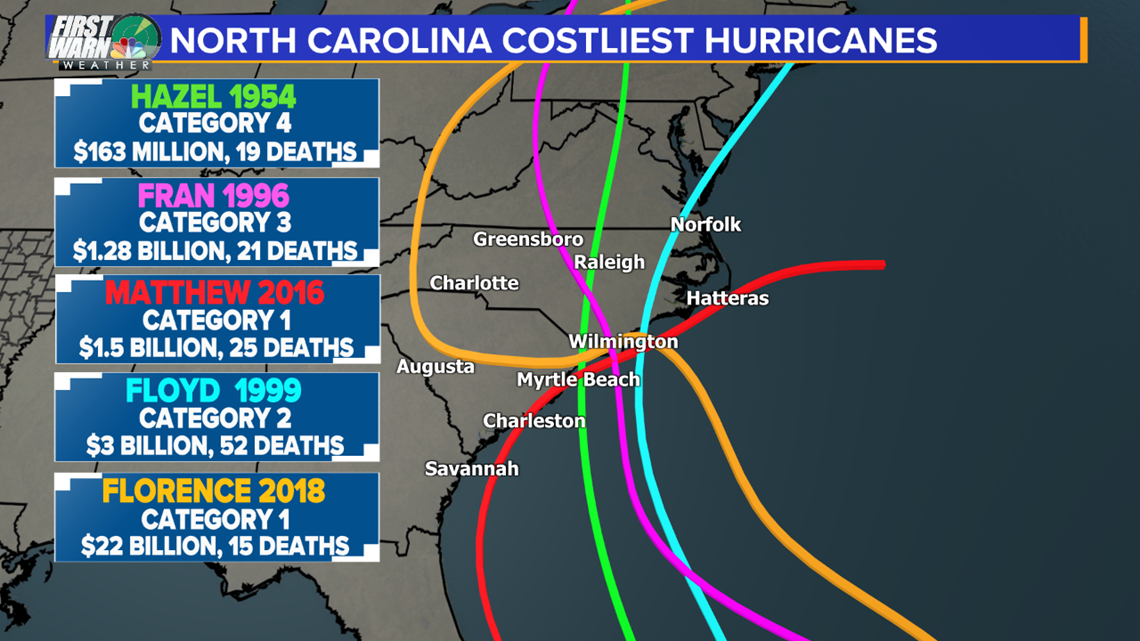 In 1996, Hurricane Fran made landfall as a category three killing 21 people and costing more than 1.2 billion dollars in damage.
Matthew is another notable hurricane in recent years to produce more than a billion dollar in damage in the Tar Heel state along with 25 deaths. The costliest natural disaster was Hurricane Floyd in 1999 until Hurricane Florence hit the coast near Wrightsville Beach in 2018.
Florence is most memorable for its slow movements and catastrophic flooding across the Carolinas. The once major hurricane made landfall in 2018 as a category one, yet it slowly churned over the region and caused 22 billion dollars of damage for North Carolina. The significant rainmaker directly attributed to 15 deaths in North Carolina, most of the fatalities resulted from freshwater flooding involving vehicles according to storm reports.