The basics
Hurricanes are ranked into five categories on the Saffir-Simpson Scale, which was first created in the early 1970s and was most recently adjusted in 2012. For a hurricane to reach Category 5 status, it must have sustained winds of 157 mph or higher.
The history of Category 5 storms
Hurricane records date back as far back as 1842. The first documented Category 5 came in 1924.
This hurricane made landfall in extreme western Cuba with sustained winds of 165 mph. This is one of two Category 5 hurricanes to ever make landfall in Cuba. The most recent was Hurricane Irma in 2017.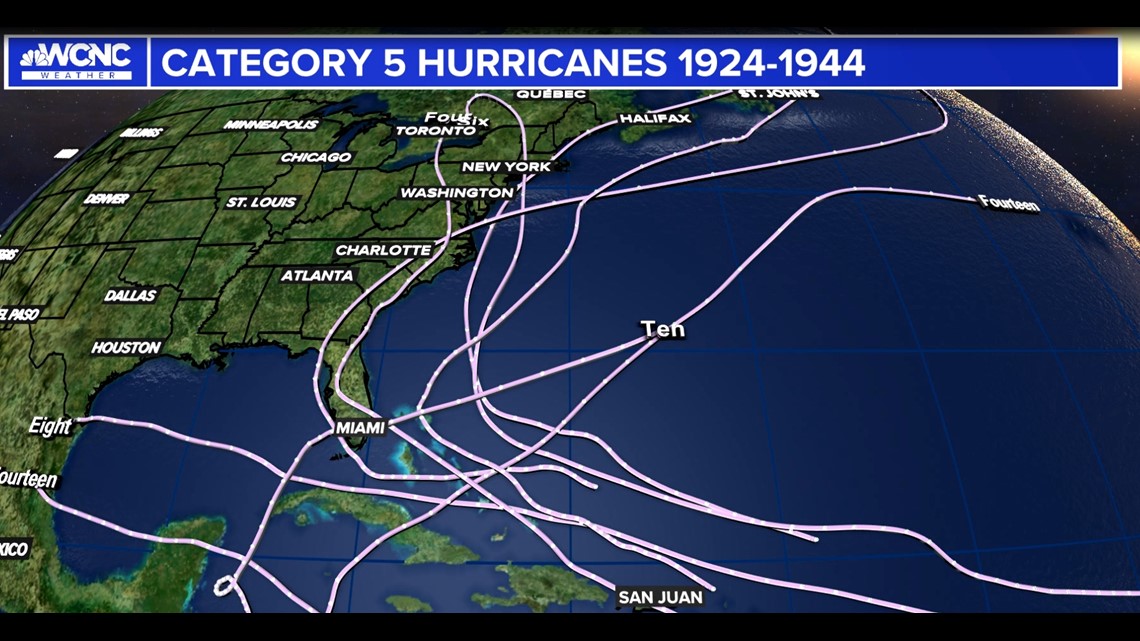 The first nine Category 5 storms from 1924 until 1944 were unnamed. Hurricanes started to receive names in 1950. Before then, epic landfall hurricanes would get a nickname based on where they produced damage or loss of life.
1924 - "The Great Cuba Hurricane of 1924"
1928 - "SAN FELIPE-OKEECHOBEE"
1932 - "The Great Bahamas Hurricane of 1932"
1932 - "The Great Cuba Hurricane of 1932"
1933 - "Cuba–Brownsville"
1933 - "Tampico"
1935 - "Labor Day Storm of 1935"
1938 - "The New England Hurricane"
1944 - "Great Atlantic Hurricane"
The Category 5 storms to make U.S. landfalls
The first Category 5 to make landfall in the United States was the seventh such Category 5 storm ever to form. This storm is known as the "Labor Day storm of 1935." It made landfall in the Florida Keys with winds of 185 mph, the strongest storm to make landfall in the US.
Hurricane Camille in 1969 is the second strongest landfalling hurricane in the United States. The storm hit southern Mississippi with 175 mph sustained winds.
1992's Hurricane Andrew is infamous for the damage produced in Florida. Andrew scarred the Miami area with 165 mph winds.
Hurricane Michael in 2018 devastated the Florida panhandle with its Mexico Beach landfall and 160 mph winds.
Category 5 hurricanes to make landfall in other countries
The United States shares a hurricane season with countries all along the Atlantic Ocean. Outside the United States, there are multiple hurricanes that made landfall at Category 5 strength:
Great Cuba Hurricane of 1924 (Western Cuba - 1924)
San Felipe Hurricane (Southeast Puerto Rico - 1928)
Great Bahamas Hurricane (Northern Bahamas - 1932)
Hurricane Janet (Southern Quintana Roo, Mexico - 1955)
Hurricane Inez (Southern Dominican Republic - 1966)
Hurricane Edith (Northern Nicaragua - 1971)
Hurricane Anita (Eastern Tamaulipas - 1977)
Hurricane David (Southern Dominican Republic - 1979)
Hurricane Gilbert (Cozumel and Playa Del Carmen, Mexico - 1988)
Hurricane Dean (North of Belize - 2007)
Hurricane Felix (Northern Nicaragua - 2007)
Hurricane Irma (Northern Cuba - 2017)
Hurricane Maria (Dominica - 2017)
Interesting Category 5 stats and facts
Hurricane Allen (1980) tops the list as the strongest hurricane with sustained winds of 190 mph.
Hurricane Dorian in 2019 was the slowest-moving Category 5. The storm remained stationary for over 14 hours in parts of the Bahamas
Only three of the first 30 instances of Category 5 hurricanes have not had their names retired. Hurricane names are frequently retired and not reused if the storm produced historic damage. Lorenzo (2019), Edith (1971) and Esther (1961) remain in the rotation for potential future use.
In more recent years, Emily has also gone unretired (RELATED: Hurricane Emily: The storm that refuses to be retired)
In 2005, Hurricane Wilma reached an air pressure of 882 mb, the lowest pressure of any hurricane in the Atlantic.
The year 2005 had the most Category 5 hurricanes in a single season. One of those storms was Katrina.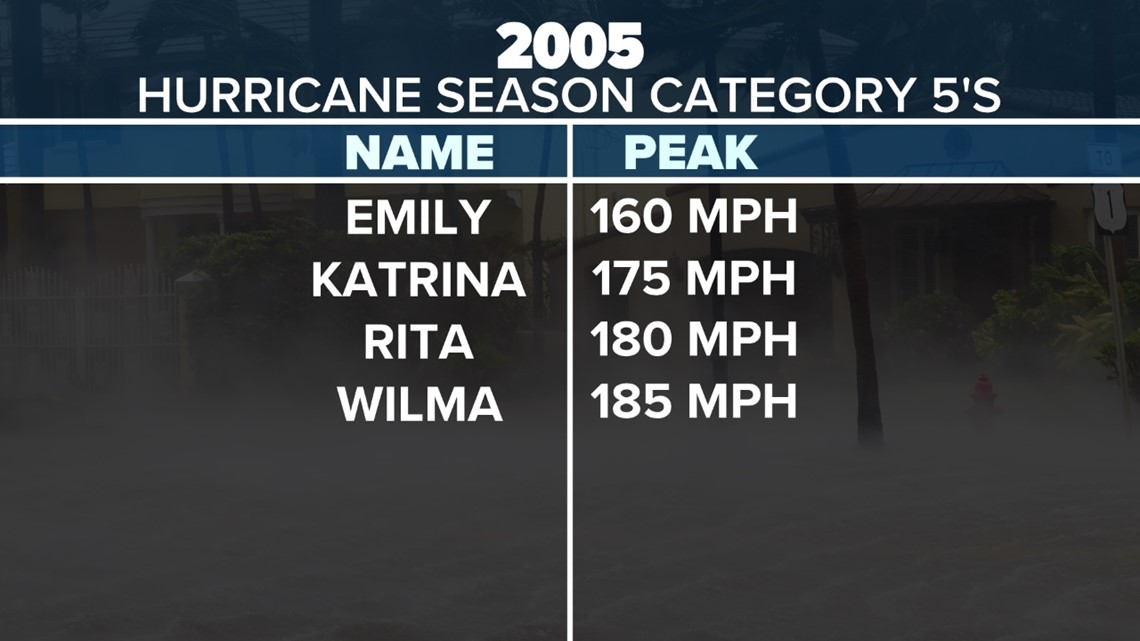 Category 5 hurricanes are becoming more common. Sixteen times since 20023, a Category 5 hurricane has formed. And eight of those have been over the last eight years.
WCNC Charlotte's Weather IQ YouTube channel gives detailed explainers from the WCNC Charlotte meteorologists to help you learn and understand weather, climate and science. Watch previous stories where you can raise your Weather IQ in the YouTube playlist below and subscribe to get updated when new videos are uploaded.
All of WCNC Charlotte's podcasts are free and available for both streaming and download. You can listen now on Android, iPhone, Amazon, and other internet-connected devices. Join us from North Carolina, South Carolina, or on the go anywhere.