The Top 10 Charlotte sports moments of 2019
Cam Newton's injury spelled doom for the Panthers, but that didn't stop Christian McCaffrey from running his way to NFL history.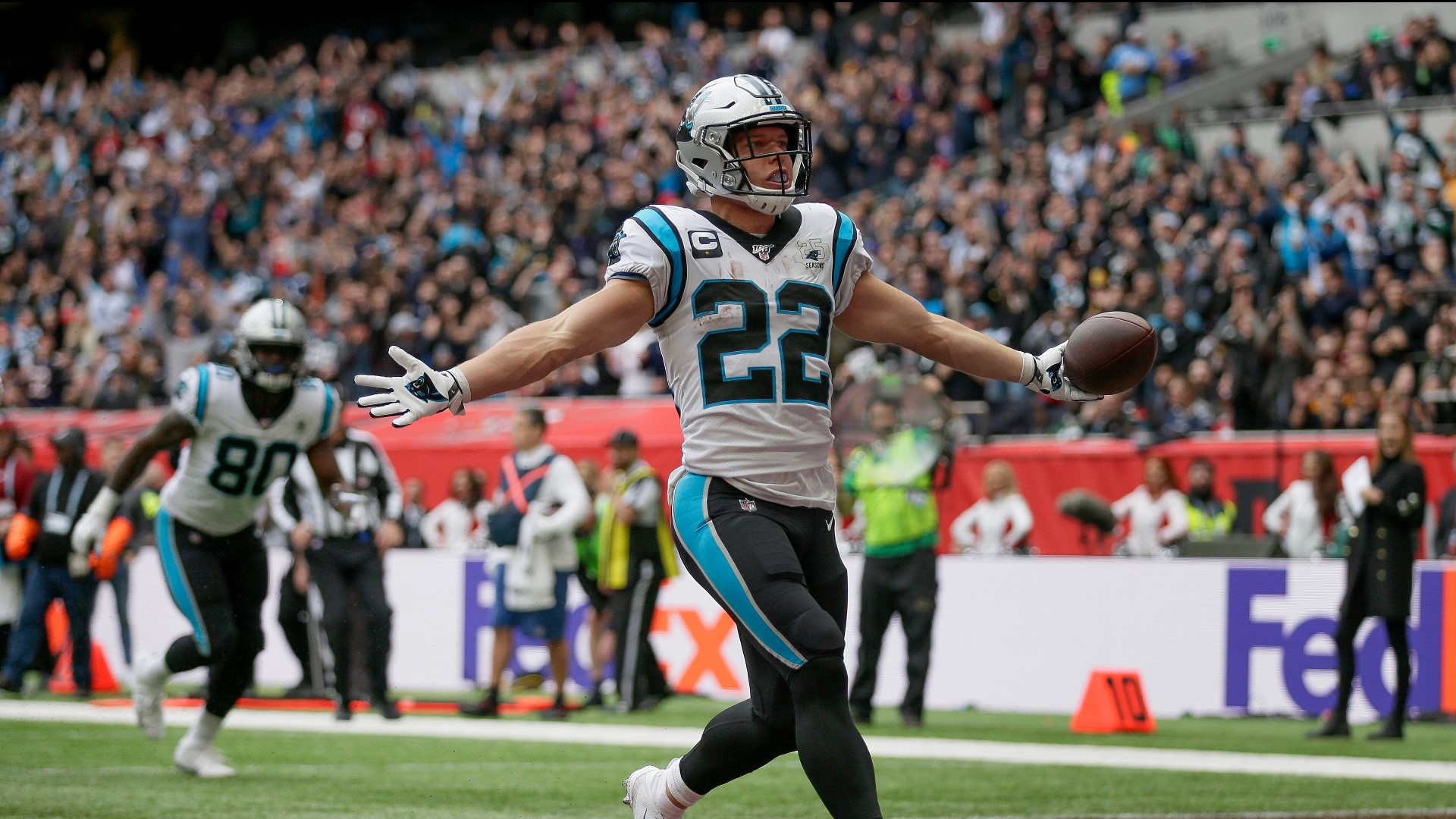 The Queen City had its fair share of ups and downs in the world of sports during 2019, including one of NASCAR's greats saying goodbye and playing host to NBA All-Star Weekend.
On the football field, Cam Newton's foot injury that derailed the Panthers' season before it got started triggered a series of events that will undoubtedly reshape the team's future.
Oh, and David Tepper helped bring Major League Soccer to the Queen City. These are the 10 biggest sports stories of the year.
Major League Soccer comes to Charlotte
:
David Tepper made it clear he wanted an MLS team. He got one.
On July 10, 2018, David Tepper was introduced as the new owner of the Carolina Panthers. During his introductory press conference, he first mentioned bringing an MLS team to Charlotte.
Flash forward 17 months, and he delivered. Major League Soccer Commissioner Don Garber officially awarded Charlotte the 30th franchise on December 17, 2019, with Tepper and Mayor Vi Lyles there to celebrate.
"You ready to party?" Tepper asked, telling fans this club would "get it done."
He even jabbed fellow MLS city Atlanta in the process.
"Charlotte is hot. We are the hot city. Screw that other city," Tepper said.
Landing a team wasn't as simple as just wanting one, though. Charlotte City Council and Lyles agreed to set aside $110 million for renovations that will make Bank of America Stadium soccer-friendly, as well as establish a team headquarters at the old Eastland Mall site.
The team, which is yet to be officially named, is expected to hit the field in 2021.
CMC runs his way to football history
:
Christian McCaffrey was brilliant, becoming just the third player in NFL history to amass 1,000 rushing and receiving yards in the same season
To be honest, there wasn't much to remember from the Panthers' dismal 2019 campaign. Except for Christian McCaffrey, that is.
The third-year do-it-all tailback was sensational for Carolina, joining NFL greats Marshall Faulk and Roger Craig as the only players in league history to hit 1,000 rushing and receiving yards in a single season.
McCaffrey joined the elusive club in the season finale against New Orleans, hauling in seven passes for 72 yards. He came into the game needing 67.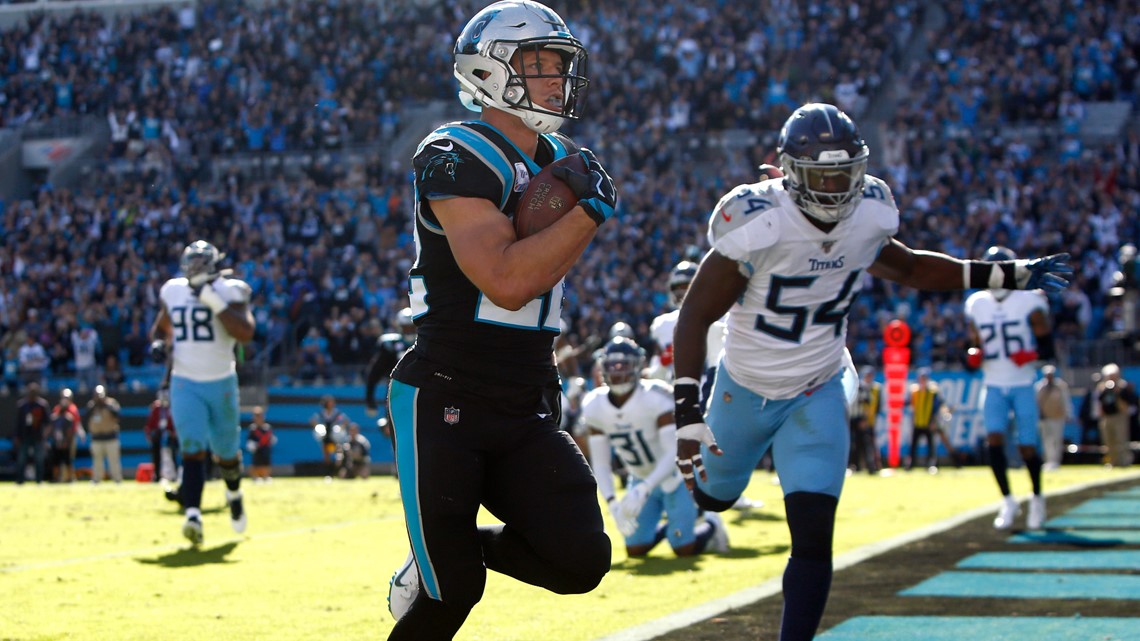 "Every year I write down little goals and that was one of them," McCaffrey said. "It's cool when you accomplish one of those goals you write down, but obviously, I can't reiterate this enough, but the most important statistic is winning."
McCaffrey, affectionately known as Run CMC, finished the season with 1,387 rushing yards on 287 carries and 1,005 receivng yards on 116 receptions. He found the endzone 19 times and finished with the third-most scrimmage yards in NFL history. His 116 receptions were a record for a running back (he broke his own personal best from 2018). And get this: McCaffrey didn't lose a single fumble on his 403 touches, the most since Curtis Martin went 412 touches without losing a fumble in 2004 (stat courtesy of the Panthers).
Cam Newton's injury derails the Panthers' season
:
For all intents and purposes, the Panthers' season was doomed from the get-go
Entering 2019, there were questions about Cam Newton's health, but they were all focused on his shoulder after offseason surgery. Newton looked impressive in training camp, making throws he hadn't been able to after playing through an injury for several weeks in 2018.
The optimism quickly turned to concern in the preseason, when Newton suffered what was initially believed to be a sprained foot against New England. He left the stadium in a walking boot. Newton returned in the regular season, playing two games before aggravating that injury on a Thursday night vs Tampa Bay.
As it turns out, Newton was dealing with a Lisfranc injury. Ron Rivera told reporters he wasn't sure if Newton would need surgery, but said the team wasn't going to rush Newton back. He never returned, and the Panthers struggled with Kyle Allen becoming a full-time starter for the first time, and with hometown rookie Will Grier.
Earlier this month, it was announced that Newton would undergo surgery on his foot after he met with renowned foot specialist Dr. Robert Anderson.
Carolina is now forced to make a decision on Cam's future with the team. Newton is due $21.2 million against the salary cap but the team can save $19 million by trading or releasing him.
But what's next with Newton is just one of several questions facing the Panthers in 2020.
Ron Rivera is fired by the Panthers
:
For the first time since 2011, the Panthers are looking for a new head coach
Ron Rivera entered his ninth season as Panthers head coach not exactly on the hot seat, but it was probably warm after the team collapsed in the second half of 2018, losing seven of their final eight games.
With the loss of Cam Newton in the preseason and again after two games, Rivera appeared to have found something with backup quarterback Kyle Allen. At the midway point in the season, Rivera's team was 5-3 and in the thick of the playoff hunt.
Then the wheels came off.
A close loss in snowy Green Bay was followed by defensive breakdowns against Atlanta, New Orleans, and Washington, in a four-game span that led to Rivera's dismissal. The two-time AP NFL Coach of the Year was fired, with team owner David Tepper saying he wanted to be honest with Rivera, and didn't want to go behind his back in the search for a new head coach.
Tepper said the search for the next head coach would begin immediately and the winning candidate would have "the right mix of old-school discipline and toughness with modern and innovative processes."
"We all must recognize that this is the first step in a process, but we are committed to building and maintaining a championship culture for our team and our fans," said Tepper.
NBA All-Star Weekend comes to Charlotte
:
After losing the 2017 All-Star Game, Charlotte played host to the event in 2019
NBA Commissioner Adam Silver said there were a few "bumps in the road" that needed to be cleared for the game to return in 2019.
"A law was passed in North Carolina called HB2 which, in the view of the league office and many others, discriminated against the LGBTQ community," he said. "We then made a decision that it was inconsistent with the values of this league to play the All-Star Game here under those circumstances."
You may remember HB2 was a controversial law signed under then-Governor Pat McCrory that caused a harsh backlash from businesses and activists throughout the Tar Heel State and the country.
"With strong support from Michael Jordan and Fred Whitfield and others in the organization, they began an effort with the city and the state to repeal that law," Silver said. "And ultimately, I'd say in true North Carolina fashion, people came together and did change that law."
"To be here in the All-Star game where my dad played for 10 years, this will be a weekend we will remember for a very long time," Steph Curry said.
He got sentimental when thinking of the Bojangles' Coliseum.
"I've played countless games in this building, growing up [in] high school and AAU, so it's pretty awesome to back and representing Charlotte the way I know how," Steph Curry said.
Kemba Walker leaves the Hornets
:
Charlotte's greatest player ever made the tough decision to leave the Hornets after eight seasons
"This was an extremely tough decision, and I hope people on both sides will take that the right way," Walker said.
Walker wrote an emotional thank you letter to Charlotte's fans and organization, thanking them for taking a chance on him in the 2011 draft. He admitted he wasn't the biggest guy, or the flashiest, but it all changed when Michael Jordan...the Michael Jordan, called him.
"He called me up...and of course I recognized his voice instantly. (I remember thinking, even in that moment, you know, like — Damn. It's MIKE)," Walker wrote.
Walker told ESPN's Scott Van Pelt he would sign with the Boston Celtics on a four-year deal. It's reportedly worth around $140 million, which is less money than the Hornets could have offered, but at this point in his career, Walker is ready to compete for a championship, something the Hornets were never able to make happen.
Walker left Charlotte as the team's all-time leader in points, minutes played, free throws and three-point field goals.
Club LIT ushers in a new era for the Charlotte 49ers
:
For the first time in their brief history, Charlotte went bowling
After six seasons, athletic director Mike Hill knew it was time for a change to get the football program up to speed. Enter Will Healy, a 34-year-old head coach from Austin Peay in the FCS ranks.
Healy's rise came on the heels of the turnaround at Austin Peay. The Governors had won just one game in four years when Healy led them to an 8-4 record with a 7-1 mark in the Ohio Valley Conference.
He wasted no time convincing Charlotte's team they could not just compete, but win in Conference USA. The 49ers won five straight games to close the regular season at 7-5, earning their first bowl bid in program history.
And the celebrations along the way were epic, with Healy seen wearing the 49ers mascot head in the locker room with strobe lights and music blaring. The parties were dubbed "Club LIT" and became a sensation on social media.
The Zion Williamson Experience
:
Not since LeBron James has a teenager taken basketball by storm the way Zion Williamson did
Years before he became a household name at Duke, Zion Williamson was an internet folk legend. Videos of his insane dunks were all over Twitter, and he was his generation's version of an And-1 tape.
When Williamson enrolled at Duke, the Blue Devils were must-see TV. The teenage phenomenon ran, jumped and dunked his way to becoming a one-name star. Anywhere you looked, Zion was front and center.
Then came the moment that defined his collegiate career.
Just seconds into Duke's home game with rival North Carolina, Williamson slipped and his shoe exploded. The freshman fell to the floor in a heap, holding his knee. The crowd, which included former President Barack Obama, was stunned.
Fortunately, it wasn't the end of his season, and Zion led Duke to Charlotte, where they won the ACC Tournament behind his 21 points in the final against Florida State. Williamson, of course, went on to be the No. 1 overall pick in the 2019 NBA Draft.
The Checkers win the Calder Cup
:
It was the team's first AHL title and seventh championship in Charlotte hockey history
Led by Andrew Poturalski's 70 points and AHL-leading goaltender Alex Nedeljkovic, the Charlotte Checkers brought home the franchise's first American Hockey League Championship in 2019.
Charlotte finished the regular season first in the Eastern Conference, earning home-ice advantage throughout the playoffs. During their playoff run, the Checkers set home attendance records and had a large collection of fans following them on road trips to Chicago for the Calder Cup Finals.
"It's been awesome. The support that they've shown us the whole year has been incredible. It's the loudest building in the AHL," said captain Patrick Brown. "During the playoffs I was getting goosebumps when they were shouting."
Jimmie Johnson announces he will retire from NASCAR
:
The seven-time Cup Series champion will call it a career after the 2020 season
Johnson has 83 career victories, which ties him with Cale Yarborough for sixth all-time. Another win in NASCAR's top series will tie him with legendary drivers Bobby Allison and Darrell Waltrip.
The 44-year-old will spend his entire career with Hendrick Motorsports, driving the No. 48 car. Johnson is currently in the longest slump of his career, with his last victory coming more than two years ago in 2017, and missed the postseason for the first time since the format began in 2004.
During his career, Johnson was the master at Charlotte Motor Speedway, winning eight points-paying races, including four Coca-Cola 600s. He's also a four-time winner of the NASCAR All-Star Race at Charlotte.