The mandate extends masking requirements to patrons and employees at various types of locations such as restaurants and retail stores, calling for face coverings in all public indoor settings, even when social distancing is in place.
That does mean that exercisers would have to mask inside a gym while working out and diners seated at restaurant table would have to mask while not actively eating or drinking.
Gov. Cooper hopes the move will help slow viral spread without "further re-closures of the state's businesses and operations."
Under the new executive order, which takes effect Wednesday, Nov. 25 at 5 p.m., enforcement of the masking requirement is also stepped up. Previously, only businesses could be cited for noncompliance. Now, anyone can be punished with a Class 2 misdemeanor, putting the violation on par with resisting an officer or carrying a concealed weapon.
According to North Carolina law, a Class 2 misdemeanor could be punished with up to 60 days in jail and a fine of $1,000.
Cooper's new order comes as the number of North Carolina counties reporting "critical" coronavirus spread has doubled in less than a week, according to the state's new county alert system.
During a coronavirus briefing on Monday afternoon, the governor and the state's Health and Human Services Secretary Mandy Cohen announced the alert system was updated three weeks early since the state's key COVID-19 metrics have risen so sharply.
The county alert system takes into account each county's number of per capita cases, positivity rate, and hospital system impact, categorizing counties in yellow, orange and red zones, representing significant, substantial, and critical viral spread, respectively.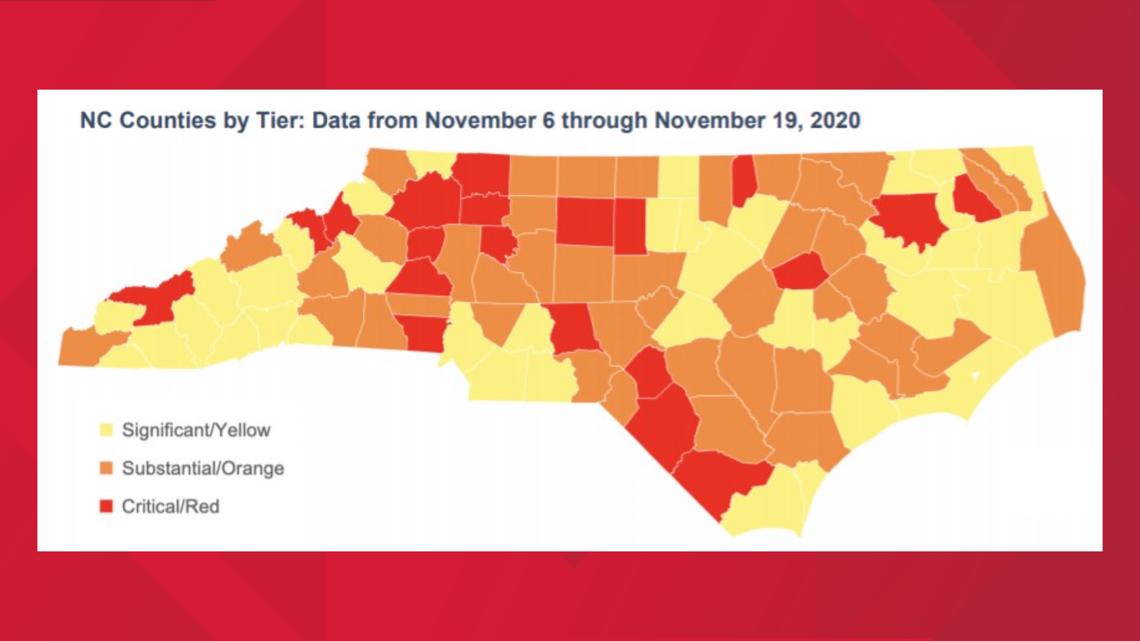 The latest count shows 20 counties in the red zone and 42 in the orange zone. As a comparison, last week, there were 10 counties deemed to have critical spread.
In the Charlotte region, Monday's update shows Catawba County joining Alexander, Avery and Gaston counties on the red zone list.
According to the report, Catawba has more than 660 cases per 100,000 people in the county, a 10.6% positive test rate over the last 14 days, and "moderate" impact on the county's hospital resources.
Over the weekend, North Carolina reported more than 4,500 new coronavirus cases in one day, a record. The state's positive test rate is rising as well, with 7.8% of tests detecting an infection over the last 14 days. Monday, the state had a record number of COVID-19 patients in the hospital: 1,601.
"This is deadly serious," Gov. Cooper said. "We need counties to work with us to enforce the strong safety rules we already have in place."