CHARLOTTE, N.C. — Charlotte Water lifted its boil water advisory for customers Wednesday, saying they can use water as normal after Monday's "historic" water main break that affected about half of Charlotte.
Charlotte Water said they checked flow and sampled water from 260 fire hydrants and 104 other locations before lifting the advisory. All samples collected met quality standards and bacterial testing was negative, according to Charlotte Water. Charlotte Water has not received any reports of illness due to drinking water before or during the advisory.
"The health and safety of our customers is always our top priority," Angela Charles, director of Charlotte Water, said in a statement. "This was a significant break that required coordination to isolate the break, a thorough assessment of the damage, and analysis of the impacts and appropriate next steps. We now have test results confirming that our water system worked as designed."
Around 4 p.m. Monday, the transmission pipe broke near the 1400 block of Remount Road. The pipe is about 3 feet below Irwin Creek and broke near the Remount Road bridge adjacent to the Irwin Creek Greenway and Revolution Park.
People in the area Monday took pictures and videos of water gushing out of the ground. The dramatic images showed what looked like a huge geyser.
"The break we are dealing with is on a pipe that we call a transmission water pipe," Charles said during a Tuesday morning brief. "Its role in the community is to transport water from the water plant throughout our service area. A typical water main break is more localized and impacts folks maybe on a street, in a cul de sac or neighborhood."
Charles said for customers who didn't lose water, their water is safe to drink.
The city released a map showing potentially impacted areas in light blue. Due to the nature of the pressured water systems, the map only convenes areas that could have been impacted because they are fed by this transmission line.
While some WCNC Charlotte viewers in these areas reported water issues, other establishments seemingly went unaffected.
Only those who received a disruption in service were encouraged to boil their water, according to Charles.
While not everyone in entire zip codes may have lost water pressure, WCNC Charlotte viewers in the following zip codes reported having water issues:
28105
28202
28203
28204
28205
28206
28207
28208
28209
28210
28211
28212
28213
28214
28215
28216
28217
28223
28226
28262
28277
28278
The main impacted areas are roughly outlined as:
to the north by Brookshire Boulevard and I-85
to the east by WT Harris Boulevard and Monroe Road
to the west by the Catawba River
to the south by the state line.
How old was the pipe?
The pipe was 36 inches wide and was installed in 1955.
Officials have not said what caused the pipe to break.
"This pipe is prestressed concrete," Charles said. "It lasted for at least 60 years. A good benchmark, when we put something in the ground, if it lasts 30 to 50 years, it's doing good. We're not sure age was the cause but age can be a factor."
Charles said the pipe wasn't the oldest. Charlotte still uses some cast iron pipes from the 1920s and '30s, according to Charles. She said the city has a renewal program where crews go in and look at different factors, including age, type of pipe, location, and repair records to determine if any changes are necessary.
Charles called the break "historic," explaining it was one of the worst water main breaks she's seen in over 30 years working for Charlotte Water.
"Charlotte Water began testing water samples this evening and will continue to test water samples for the next several days," Charlotte Water said in a statement. "Charlotte Water monitors drinking water from more than 300 water quality stations throughout the service area. Technicians have taken samples for laboratory testing."
Crews were on the scene Tuesday afternoon to assess the situation before making necessary repairs. The area where the pipe broke was taped off and blocked by cones. About a dozen workers were underneath an overpass where the water was spraying Monday evening.
Charlotte Department of Transportation (CDOT) inspected the Remount Rd. bridge and determined that there is no threat to the traveling public.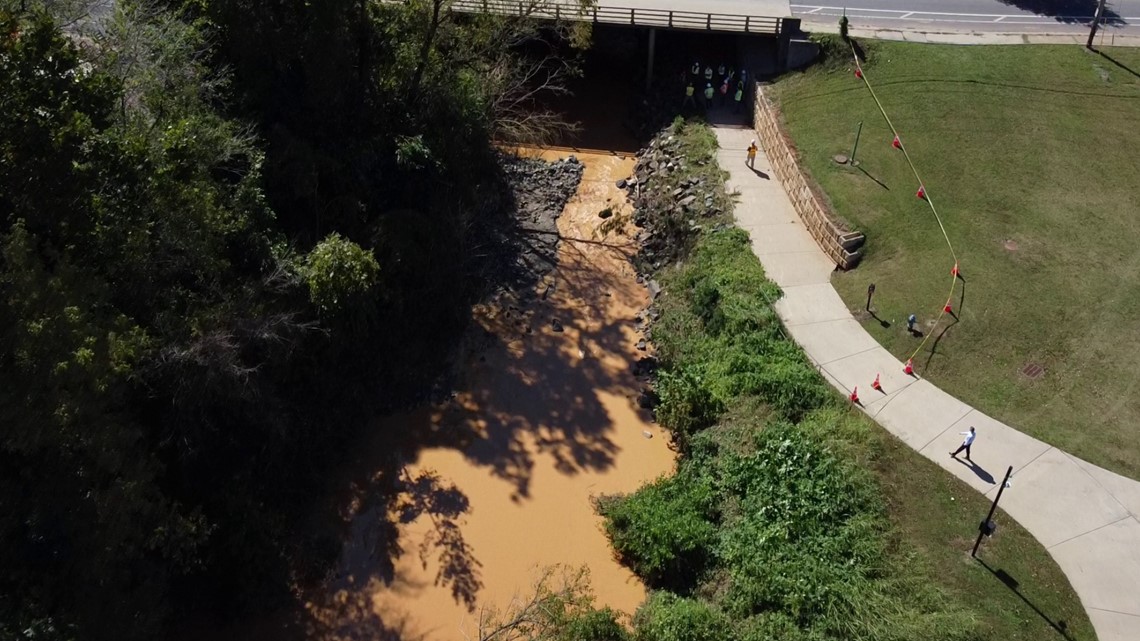 News of the major water main broke first broke during Monday evening's zoning hearing, where Charlotte Mayor Vi Lyles said city leaders were gathered,
"Oh my gosh," Lyles said in learning the extent of the outage.
Impacts from Charlotte water problems
Nearly 24 hours after the pipe initially broke, many of the restaurants inside Charlotte Douglas International Airport reopened, according to a list published on the airport's website. Throughout the day Tuesday, airport officials were working with vendors and Mecklenburg County Public Health to reopen restaurants in the terminal.
The airport was among the areas that lost water Monday evening. As a result, restaurants and restrooms had little-to-no water pressure inside the airport. For a short time, a ground stop was issued that impacted flights.
"With COVID-19, I want to wash my hands every 20 minutes, but they have no water here," passenger Edson Vera said about the airport's now-resolved water outage.
Atrium Health said some of its facilities had experienced "the inconvenience of low water pressure as a result of the water main break, but no current, significant impacts." A spokesperson told WCNC Charlotte that Atrium had a reserve supply of bottled water it could tap into if needed.
Denise Hairston of Dee's Vegan To-Go told WCNC Charlotte's Briana Harper she saw the gushing water firsthand but didn't realize the impact it would have on her business. But the restaurant, located on West Boulevard just down the street from the water main break, had to put the business on hold Monday.
"You can't keep working if you don't have water," Hairston said. "It's a sanitation issue."
The Charlotte-Mecklenburg School District said they have identified schools with low to no water pressure and said all impacted schools will receive alternative food services and bottled water for students.
The list of schools currently reported to be impacted by water issues include:
Thomasboro
Harding
Turning Point (Pawtucket)
·Rama Road
·Garinger
Community House
Cotswold
First Ward
University Park Creative Arts
Phillip O. Berry
Tuckaseegee
West Meck
Northwest School of the Arts
Elizabeth Lane Elementary
JM Robinson
Could the weather have caused the Charlotte water main break?
WCNC Charlotte Chief Meteorologist Brad Panovich said normally the "season" for water main breaks is in the late winter going into early spring due to the change from cold to warm temperatures. Panovich doesn't believe this break has any direct connection to the weather.
Panovich noted that so much water was flowing out of the water main break that the creek level rose nearly three feet in some locations.