Students told WCNC Charlotte they originally tried to hold a protest Monday but said the school's principal shut it down and instead offered to host an assembly behind closed doors.
"We're out here today because we're not going to let them silence our voices anymore," Sereniti Simpson, a student who helped to organize the protest, said.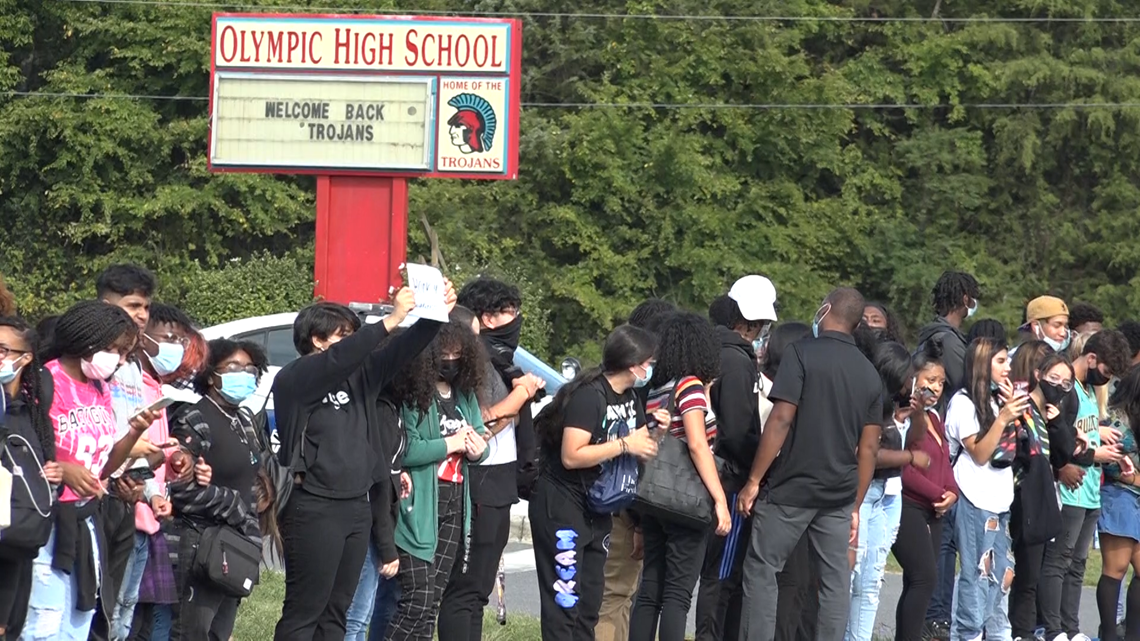 Simpson said the students hit their tipping point last Friday when a student-athlete accused of sexually assaulting another student on campus was allowed to play in the school's football game.
"If you get your phone taken in class, you're benched, but yet he can be under investigation for a sexual crime and still get to play on Friday, that is ridiculous," Simpson said.
"The coaches covered up his ankle monitor so it wouldn't be shown," Olympic High School senior Brianna Moncada said.
WCNC Charlotte does not identify the victims of sex crimes. The identity of the suspect in the reported Sept. 13 assault was not released publicly by either the Charlotte Mecklenburg Police Department or Charlotte Mecklenburg Schools because he is a juvenile. Therefore WCNC Charlotte cannot independently confirm whether the suspect is a member of the football team.
CMPD confirmed that on Sept. 14 they charged a 15-year-old suspect with attempted second-degree rape, second-degree kidnapping, and sexual battery.
Charlotte-Mecklenburg Schools says privacy laws prevent them from confirming if that 15-year-old was the one allowed to play in the football game – but Friday – admitted such an action never should have happened.
"My experience as a principal, athletic director, and coach lets me know that sometimes we have to make tough decisions and in this incident we did not make the right call," Erica Turner, the system athletic director for Charlotte-Mecklenburg Schools, told reporters in a brief public statement Friday.
Turner said moving forward "any student-athlete that is arrested or charged with a criminal offense will not be allowed to participate while charges are pending."
"It's ridiculous that it takes a football player -- for him to do this -- for something to be said," Moncada said.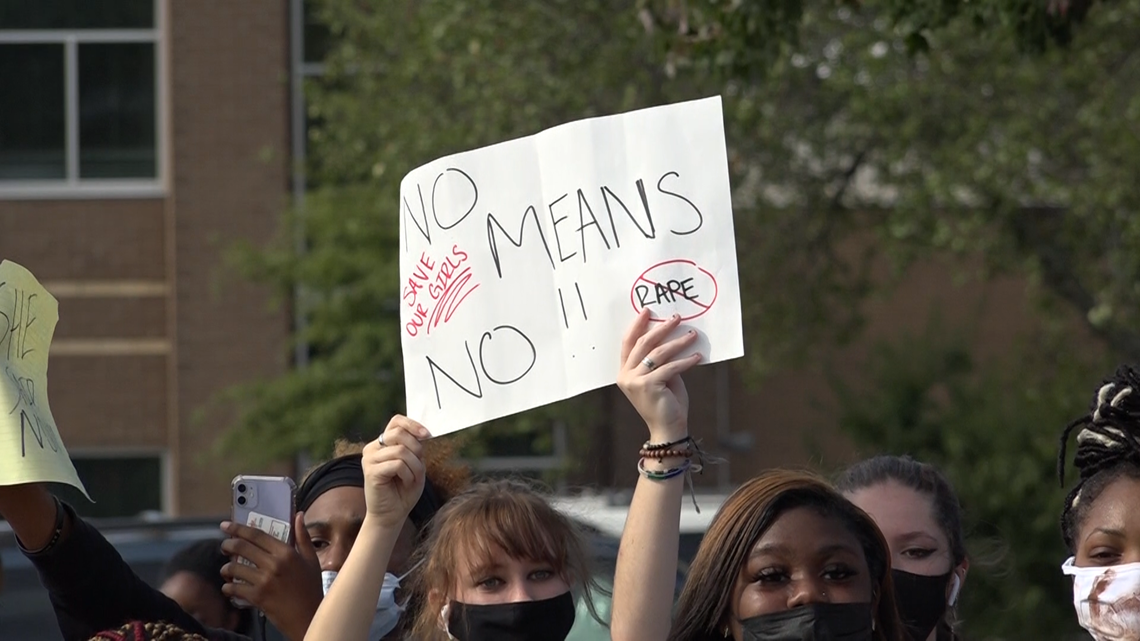 For students, they say it's about more than sports.
"I've had girls tell me they don't feel safe because they see him walking on their campus," Simpson said. "And not just him. There are so many other boys that get to walk free. [School administators] need to actually take steps to make sure our girls feel safer on campus. They need to kick kids off campus who are charged with crimes."
Olympic's next football game is scheduled for Friday, Oct. 8. Students said they plan to hold another protest at that game.
CMS said they have taken action to protect student-athletes during practices and games. The school district did not elaborate on the nature of those precautions or explain any particulars around threats against student-athletes.
CMS said Friday, they "cannot provide any further detail of those actions and cannot comment about any individual student due to FERPA [Family Educational Rights and Privacy Act ]."
Earlier this year, numerous protests were held outside Myers Park High School over allegations the school did not report alleged incidents of sexual assault on campus. At least five students claimed their reports to school administrators went unheard.
After months of protests, CMS announced the suspension of Myers Park High School principal Mark Bosco. The district also announced the creation of a Title IX task force to investigate the claims.
In a response to Friday's protest, CMS released the following statement to WCNC Charlotte:
CMS STATEMENT ON OLYMPIC PROTEST

CMS has taken action to protect classroom instruction at Olympic High School from disruption and to maintain safety of students in the classroom. These actions also will protect the safety of the school's student-athletes during practices and competition. We cannot provide any further detail of those actions and cannot comment about any individual student due to [Family Educational Rights and Privacy Act] FERPA.
The district is aware of a student-driven demonstration planned for today at Olympic High School. CMS and school leaders support the right of students to demonstrate when they feel such expression is necessary. School leaders have met with student organizers and are working to minimize disruption to the learning day while offering students the opportunity to share their concerns.
In view of recent events, district leadership is reviewing procedures related to eligibility for participation in extracurricular activities. We will share any changes in current procedures when any such changes occur.