CHARLOTTE, N.C. — Heal Charlotte has one goal: stopping the cycle of gun violence.
Recently, Charlotte has seen a rise in homicides. Some people say it's a result of the pandemic, others say a reduction in officers, but for the families who lost their loved ones to gun violence, theories don't matter.
"Devastating. Very devastating," Birdie Owens said. "We lost the true jewel, one of the true jewels in the family.
"Teach the value of life, that life is important," Birdette Paschall said.
Greg Jackson, founder of Heal Charlotte has been trying to do just that.
"A lot of prevention not just intervention," Jackson said.
Since 2016, Jackson has tried to help drive homicides down and open up different pathways for the youth.
"Gun violence is affecting everybody," Jackson said. "It's rising and we need to stop it as people move into the city because we don't want to be known for the gun violence. I don't want to talk about that, I want to talk about my kids graduating."
Charlotte is no stranger to yellow tape and police lights. Not even kids and teens are spared from being shot or killed. Jackson says it's about helping kids avoid finding the wrong helpers for temporary problems.
"Being involved with the wrong crowds but also the wrong crowds being able to satisfy those temporary needs," Jackson said. "Whether it's helping mom with rent, to buy some food or buy some new sneakers to look cool at school."
Heal Charlotte keeps an open dialogue with police, helps with food distribution and even finds homes for families. The group uses a holistic approach to have a healthy community where violence isn't the answer.
"You can't serve children and not serve the parents, and not the serve parents, and not serve the community," Jackson said.
Jackson says another way the community can help prevent gun violence is by properly storing guns so they can't be stolen. It's a common way a lot of guns are getting into the wrong hands. Also, reinforcing to youth that they matter, they're important and that they're needed — alive.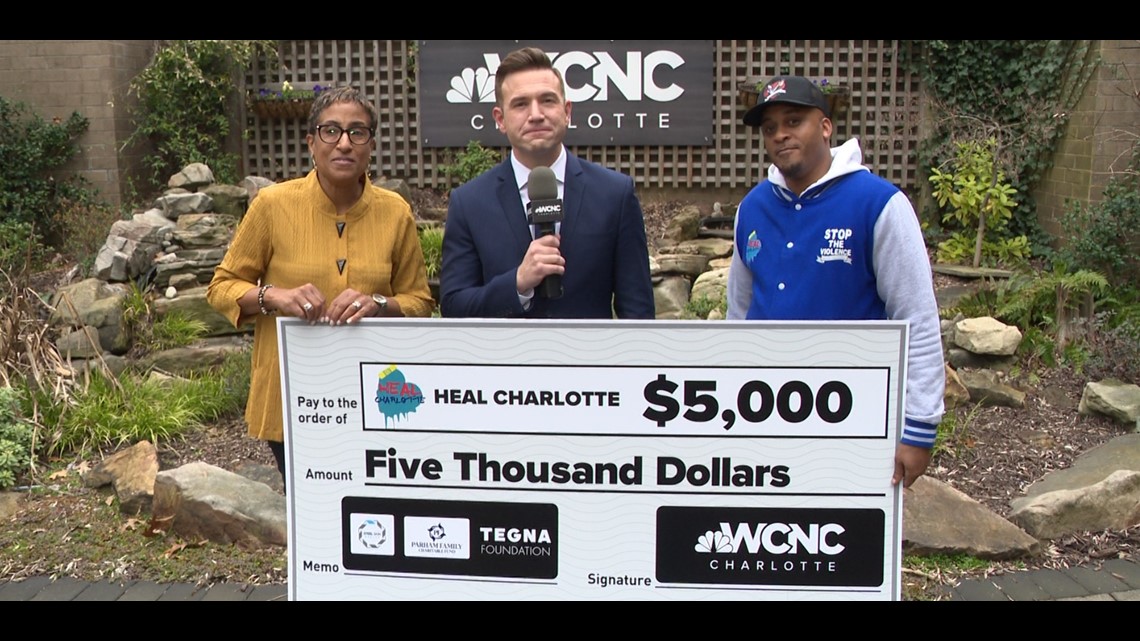 Because of the good work Heal Charlotte is doing in the community, WCNC Charlotte teamed up with the Parham Family Charitable Fund, Steel Skin Realty and the TEGNA Foundation to present a $5,000 check to Heal Charlotte.
Jackson said Heal Charlotte is hosting a youth retreat at Camp Thunderbird this spring for about 140 youth from 10 different organizations.
"This is going to be a great contribtion to that weekend. Thank you very much. I appreciate it," he said.
The Parham Family Charitable fund and Steel Skin Realty matches WCNC donations to local nonprofits. They matched the WCNC donation of $2,500 to Heal Charlotte.
"Heal Charlotte is strengthening our community by enabling strong, stable families. They're providing our youth with safe spaces where they can learn and thrive. Greg says I'm just doing my little bit so that nobody has to do a lot. Well your little bit sir is making an incredible difference in this community," Claudette Parham said. "Roger and I at Parham Family Charitable Fund and Steel Skin Realty are honored to support Heal Charlotte."
WCNC Charlotte is committed to reporting on the issues facing the communities we serve. We tell the stories of people working to solve persistent social problems. We examine how problems can be solved or addressed to improve the quality of life and make a positive difference. WCNC Charlotte is seeking solutions for you. Send your tips or questions to newstips@wcnc.com.