"It's been 50 plus years or more where Beatties Ford Road has remained the same or kind of deteriorated," Charlotte resident Ronald Ross said. "Everyone's really excited about the changes coming."
When the line opened as the city's second rail-based passenger line in 2015, it ran 1.5 miles along East Trade and Elizabeth Avenue from the Charlotte Transit Center near Spectrum Arena through Central Piedmont Community College to Hawthorne Avenue outside Novant Presbyterian Hospital. The newly expanded line continues the line east over Indepnednece Expressway and onto Central Avenue via the Hawthorne Lane Bridge, which experienced lengthy construction delays.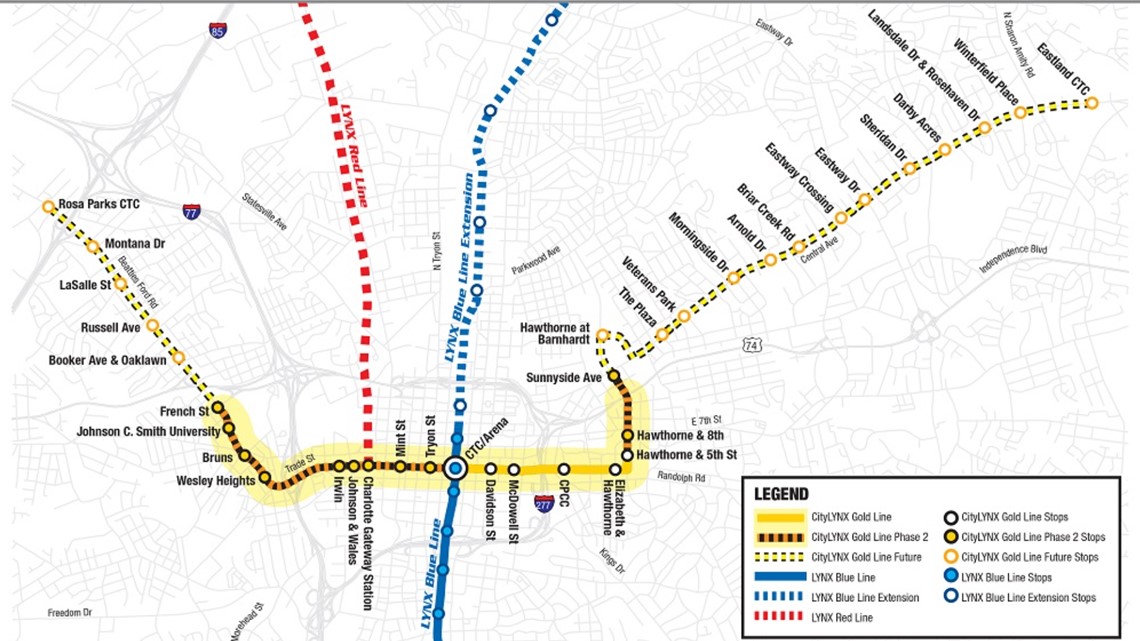 A third and final phase of the Gold Line, which will soon enter a design phase, would run 10 miles and expand service to the community transit centers in Eastland in the east and Rosa Parks Place in the west.
Like its previous service runs, passengers can ride the Gold Line for free until January 2022, when fares will be collected. The cost to ride the Gold Line will be the same as the Blue Line or bus: a fare of $2.20. Riders will be able to use fare transfers on the streetcar between the local transit options in accordance with the existing CATS transfer policy.
CATS has replaced the previous Gomaco replica streetcars with S70 Siemens modern streetcar vehicles that closely resemble existing vehicles on the Blue Line. The new cars will allow the streetcar to operate without overhead wires through the streets of Uptown Charlotte.
CityLYNX Gold Line service operates every 20 minutes from 5 a.m. through 2 a.m. every day.
Riders with questions can call CATS Customer Service at 704-336-7433.